3 Reasons Gen Z are more prefer to Work In a Startups
It's no secret that technology is continuously changing the workplace, just think about your office 20 years ago, compared to today.

These days, startups are becoming the go-to option for youngsters looking for a tech-enthused, forward-thinking company to work, like SPEEDHOME. So much so, SPEEDHOME is receiving 200 applications from Gen Z candidates for each job posting!
SPEEDHOME, the end-to-end property rental, buy and sell platform has an average employee age of just 24 years old. That's right guys, the kids are taking over the property industry!

Although having very young staff, the company has seen 100% growth within 2019 alone, with the app downloads amounting to 450 thousand app downloads and 160k web visitors per month.
Perhaps Gen Z aren't as lazy as the older generation like to suggest ay?

So why are Gen Z opting in for jobs at startups?  SPEEDHOME content strategist Poh Boon Yow stated that "the young generation is looking for a challenging, open-minded, fast-paced, fun working environment. What better provides all of these things than a start-up with jobs include finance, software development, administration, and digital marketing!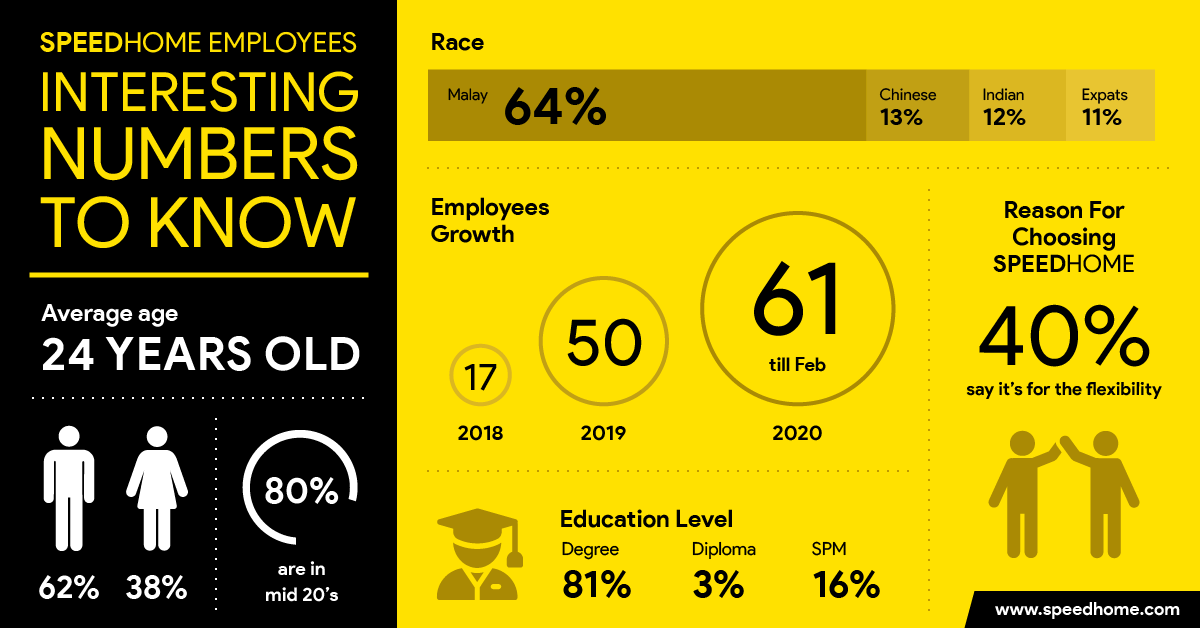 3 Reasons why youngster choose SPEEDHOME
According to research conducted by SPEEDHOME, the staff chose to work there because of three main reasons…


1.The flexible working environment
A whopping 40% of SPEEDHOME's employees stated that flexible working conditions was one of the main reasons why they are working there. One of the SPEEDHOME employees stated, when he found out about the possibility to work from home and casual dress code, this was the deciding factor in working there.

2. Low hierarchy power structure
No one likes being bossed about and made to feel small right? 36% of SPEEDHOME employees stated they were also attracted by the low hierarchy power structure of the company.

In SPEEDHOME, there are little communication barriers between staff and their superiors. In fact, everyone in the company has a voice and can communicate directly to the senior members of staff and the CEO.

3. The social environment
24% of the employee they stated they feel happier, because of the very social environment. Most of their colleagues are the same age group, with lots of common interests. There is truly a friendly, cooperative atmosphere in the office, political drama doesn't happen in this company.

In 2 years time, the company headcounts expanded 3 times

Like many startups, SPEEDHOME expanded its company is a very fast pace, in the past 2 years, The company's headcount numbers increased from around 20 people to 60. While the company expanding at a rapid pace, it's still been able to maintain the quality for their employee.

SPEEDHOME Founder Wong Whei Meng stated that agile, responsible and fast learning are the 3 main qualifications that he's looking for to join the growing team

In fact, much like Malaysia's multi-cultural society, SPEEDHOME is also a highly diversified and open workplace. In this young start-up, 64% are Malay employees, 13%of Chinese, 12% of Indian and 11% foreigner ex-pats.

Whei Meng said, "the first day I started this company, I told myself, I am looking for the talent that his/her soft skill and attitude that fit the company, race or country is never in my hiring requirement."

Although the company founder is a Chinese, nearly 87% of their staff is non-Chinese. The multi-culture working environment is a very valuable asset for the company, their staff learned and inspired by their peers in terms of a different culture, value, and languages.

Education level still relevant for the start-up company?

Just like many technology companies in Malaysia, most of SPEEDHOME employees are degree holders, among 80% of the staff graduated from college. Is the educational level the determining factor in deciding whether someone can work for SPEEDHOME? Wong Whei Meng doesn't agree with that, SPEEDHOME doesn't hire talent just by their education level, but also their character and work attitude.

"If you are a fast learner and willing to adapt to a fast-changing working environment, then I think you are the right candidate for our company" Wong added.

Conclusion :
Gen Z has now become one of the main human resources of the Malaysian job market. They are a bunch of youngsters that are more independent, tech-savvy than ever before and have a very clear career goals.

They say bye to Facebook and scroll Instagram faster than you ever see. They choose to join the starts up because they recognize the power of the technology. For the millennium generation, you need to learn how to work with Gen Z, because I'm sorry to say they are going to take over your job!
Another article you may want to read:

1.We Turn Down 119 Applicants Per Job Vacancy. Hiring Mind-Blowing Talents Only!
2.Four Kinds of Feels Living in Malaysia as an Expat
3.Flying start of the first Zero Deposit Platform