5 OF THE BEST Affordable Online Furniture Stores
Furniture is as important, if not more important, than a house. If you are someone with a roof over their head, furniture is essential in your life in order to maintain a good standard of living. So the question lies: should a landlord furnish their rental property?
In honesty, there is no strict rule saying that a landlord should furnish their property. You could just rent out your bare apartment without any other furniture except a kitchen cabinet and some lights. But should you? There are a few opinions that support and oppose this decision, and they are all agreeable. Nonetheless, this decision of furnishing or not furnishing your property will make a difference in the chance of tenants you might attract.
Why should you, as a landlord, furnish your property before letting it out?
Well, for one, furnishing your property could mean a higher rental yield. This is because landlords can justify the higher rental due to the burden of finding new furniture is lifted off from potential renter's shoulders. Who doesn't want a higher monthly rental income, am I right? Other than that, a furnished property can appeal to certain types of tenant that you are looking for. For example, a student tenant would want a study desk and an-easy-to-clean apartment. On the plus side, furnished properties are more likely to be rented out sooner than unfurnished ones. So, spending a little more in order to generate more money faster isn't such a bad trade-off, eh?
But, how about unfurnished properties?
Generally, landlords with a bigger property tend to rent out their apartment or house unfurnished. This is because potential tenants who are looking for these types of property are likely to be older with families and they would have their own furniture. Letting an unfurnished property might be better because landlords are not accountable for insuring tenants furniture even if the monthly rental income is slightly lower. Plus, you don't have to worry about the wear and tear of the furniture that you have put in the property.
Partly-furnished?
Alternatively, you could partly-furnish your property. This is a term that you can interpret however you want. Yes, you can put every furniture in the property except for beds, or you can put beds in but no other furniture. This way, your potential tenants can choose which furniture should they buy without the hassle of having to sleep on the floor on the first day of moving. This is very convenient as tenants don't really like a cramped house since they are not able to put in their own touch to the place.
These are the opinions that people have when deciding whether to furnish their property or not. Some property agents think that it is wise to let out a furnished property — since it can bring at up to 10% increment to your rental income. However, there are people who argue that flexibility is key. Make sure to discuss with your potential tenants on which they would prefer.
Another question that arises should you decide to furnish your property: Where do I buy cheap furniture? Especially now with a lot of furniture stores closed due to MCO. IKEA is fine, but the style of furniture just does not suit your taste. Fret not, we are here to talk about cheap online furniture stores that will make your property look more polished without hurting your wallet.
5 Websites To Buy Furniture Online While On A Budget
SPEEDRENO
SPEEDRENO is a new value-added service by SPEEDHOME, where they made a good deal with factory manufacturer. You are able to fully furnish your unit at around RM5,000 including Free Delivery and Installation.

SPEEDRENO also provide premium package if you are looking for tip-top furnished house. However for self stay, you can opt for 100% customizable package but the cost can go higher.
Cassa Furniture Design
Cassa Furniture Design online store offers a wide range of furniture for your desire. Their overall range products from modern residential homes to luxury office, in which you are sure to find your favourite pieces without breaking the bank.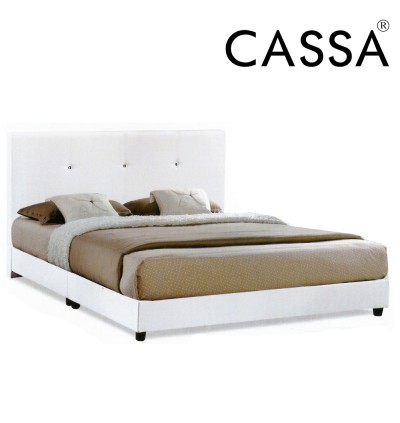 A luxury bed frame for only RM299? Yes, please! This leather bed frame will look excellent in any bedroom. At a discounted price, this inexpensive yet strong, stylish leather, and fine stitching will make any bedroom look modern and classy!
Maju Home Concept
Aligning with their slogan, 'Refining Lifestyle, Your Way', Maju Home Concept offers customers a good balance of quality and diverse furniture at affordable prices. What is more amazing is that they offer a FREE delivery service to customers with a purchase of more than RM400 worth of product. That is really really sweet!
A cheap gaming chair which costs less than RM1,000? That almost sounds impossible but believe it, Maju Home Concept offers a gaming chair at a discounted price of only RM959! You don't like the red brim? This gaming chair also comes with 5 different colors altogether.
Lavino
Lavino is an online furniture store where quality and reliability are guaranteed. Because of this fact, Lavino is more convenient than any other online furniture stores out there. One of the benefit is that they have a 14-days-free-return policy. If your purchased furniture does not suit your home, you are able to return the items within 14 days of delivery and get a refund! Other than that, Lavino ensure that they have the lowest price compared to other sites of furniture stores. In fact, if you find the same product with a cheaper price tag in another site, Lavino will refund you the price difference! Talk about value for money, huh?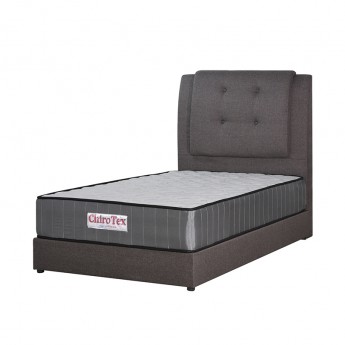 For the price of RM396, you are able to get your hands on this 10-inch foam cushioning mattress! Oh, did you know that all the products sold from Lavino are secured with a minimal of 90-day limited warranty on any manufacturing defects? As a matter of fact, this mattress comes with a 10-year warranty. So, landlords, you don't have to buy another mattress for at least another ten years. Amazing, isn't it? Plus, there are certain selected products which can be delivered for FREE.
Ruma
Ruma specializes in designing contemporary home furniture within a reasonable price range. So, if you are into modern and cosmopolitan designs, Ruma is where your inspiration is brought to life. Ruma also offers a 14-Day Satisfaction Guarantee. What this means is that you can exchange any product in your order for up to 14 days after delivery for any reason. And, it is FREE OF CHARGE! Also, you can return any product that you have bought within 14 days of delivery for any reason! Decided that you don't like the item once it has reached your house? Return or exchange it for free! The only downside of this website is that they don't offer you a free delivery but they make it up with a free assembly. Hey, the advantages really outweigh the disadvantage!
This two-in-one, plywood sofa bed is really an advantage if you have a smaller property like a studio apartment where you would want to save space anywhere you could. This chic yet contemporary design priced at RM635 will surely be a great addition to the living room as it brings a pop of colour to a basic living area!
MF Design Furniture
MF, which stands for 'Malaysian Favourite', can be considered as an OG for online furniture stores! MF Design exports nearly 6,000-7,000 furniture products all over the world. Therefore, they are able to buy and sell furniture at a much cheaper price, all while maintaining good product quality.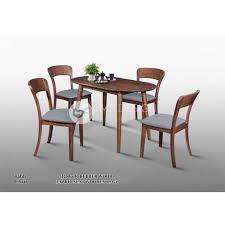 This solid wood dining table with fabric seat wooden dining chair is priced reasonably at RM1,199 considering it's rustic and modern look. This dining set will surely bring your property to the next level. Did I not mention that MF also provide a free delivery service for all of their products? Plus, assembly service is available in certain areas in Malaysia and it is free if you purchase over RM1,500 worth of furniture.
In conclusion, these are the affordable online furniture stores that is still open during MCO:
Cassa Furniture Design
Maju Home Concept
Lavino
Ruma
MF Design Furniture
What do you think of this list? Is there any other cheap online furniture stores that should be on this list but isn't? Comment down below!
Leasing your house for rent? Give SPEEDHOME a try!
Click here to check out the safest end-to-end property platform for landlords