How SPEEDHOME Claim Process Works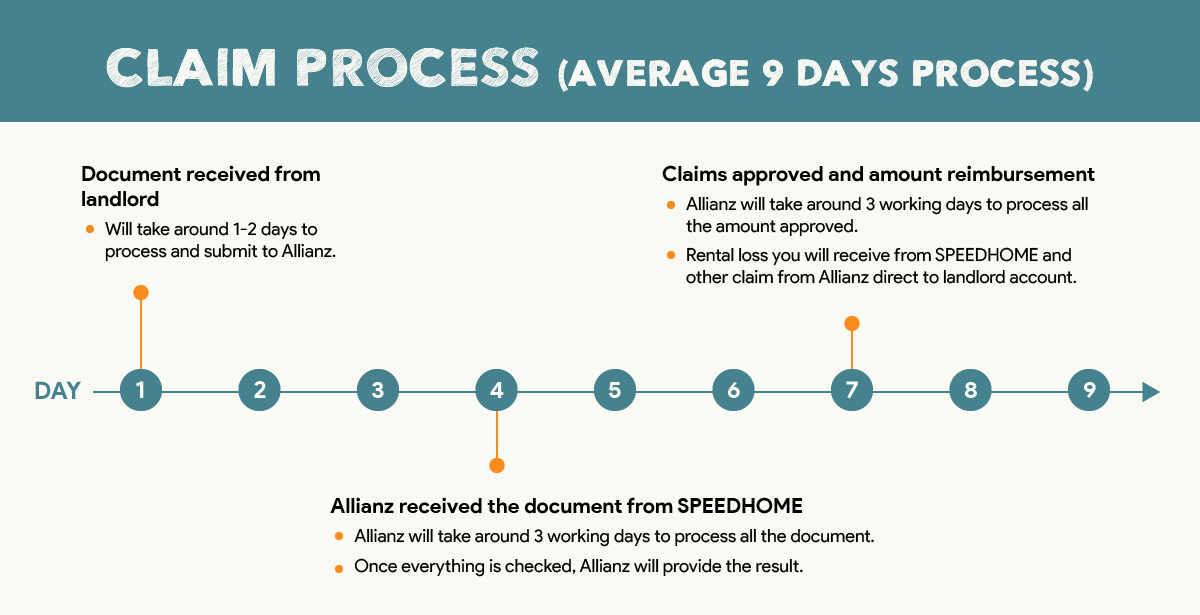 What Can I Claim
Wondering what you can claim with SPEEDHOME insurance? below is the definition of the coverage policies:
Definition of Loss of Rental, Household Content and Inconvenience Benefit
Loss of Rental
SPEEDHOME + Allianz Rental Protection covers loss of up to 2 months' rental for situations where your tenant runs away during the tenancy and more.
Household Content
Household content would be defined as movable items that you would take with if you moved home such as furniture, tables, stand-alone cabinets & wardrobes, bed, chairs, fridge, washing machine, oven/microwave, etc. 'Fittings and Fixtures' items such as partition walls, sinks, air conditioners, toilet bowls, kitchen cabinets, etc. are generally immovable items and attached to the building structure, they do not fall under Household Content
Inconvenience Benefits and Utilities
In the event of tenant runaways or abandons the tenancy and the Tenancy Agreement is terminated, the Inconvenience Benefit shall cover up to the limit amount for minor repair works; cleaning expenses, and outstanding utility bills incurred by the tenant.
Utility bills: TNB, water and Indah Water ONLY. Other utility bills are not claimable.
Cleaning fees.
Repair, more to fixtures and fittings item. All non-moveable items.
For example, the water heater is one of the electrical items in the house. However, since it is not mobile and fitted on the building wall, it is more appropriate to be deemed as fixtures and fittings. Other examples of this category include ceiling fan, air-condition, lightings, built-in wardrobe, built-in cabinets or any built-in households, curtain railing etc.
Claim Process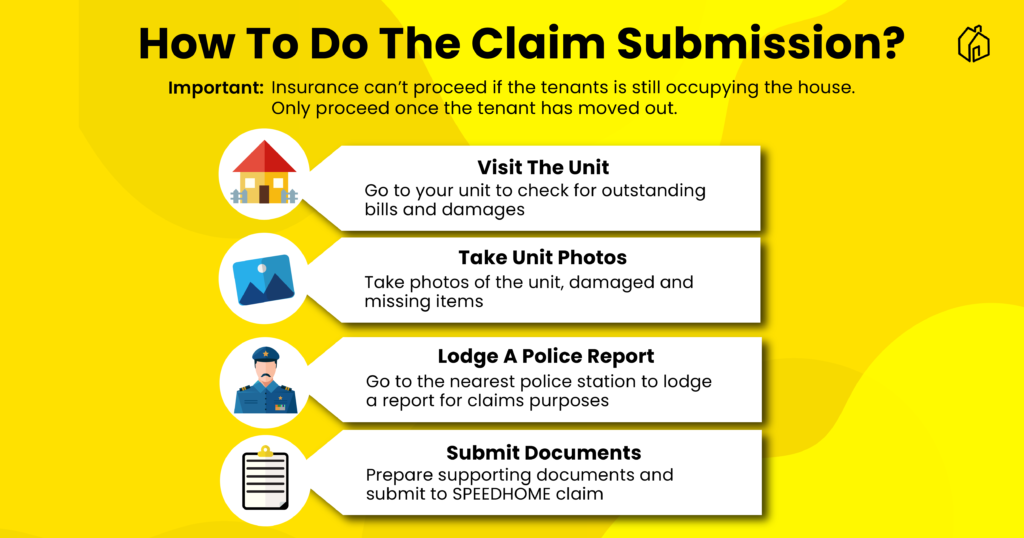 Upon default case occurred, here are the soft copy documents that you should submit (No physical documents required):
Police Report: You, as the landlord, must lodge the police report at any police station within 3 days upon tenant moved out of the house. You have to lodge in one single police report for any item that you wish to claim such as unpaid utility, damages or rent. List out the description of the damages and unpaid utility amount to SPEEDHOME and we will advise on the content of the police report. Kindly refer HERE for police report sample.
Photos: You should visit the premise to confirm that the tenant had left the property. Submit at least 3 High Definition (HD) multi-angle photos on every single item content that you wish to make a claim to show damaged part or affected area and photos of a general view of the item. We encourage landlords to submit photos in JPG, PNG format of damages. Photos are compulsory for claiming damages, malfunction and cleanliness condition. If you only managed to submit one photo per damaged item and the photo itself is not conclusive to match the description of the damage, then there would be multiple back-and-forth photo taking required to clarify.
Pricing Documents: You should be preparing the pricing documents listed above to submit the claims. For replacement items, if there were no original receipts submitted, there will be 10%-50% uncertainty being applied to the claim amount of respective furniture items as the receipt is crucial for proof of ownership of the items. You should inform us on the year of purchase to us as supplementary information if you do not have the original receipt while complementing the supplementary information with the pricing screenshot of the same item at the retail shop or online marketplace.
Technical Report / Handyman statement: For item which requires repair or replacement, a technical report or written statement by a handyman is required to clarify 2 issues:

What part of the item was being damaged;
Why it was damaged or what could be the possible cause of it being damaged.
A screenshot of WhatsApp conversation between you and Handyman is sufficient while Handyman has to be available for questioning over the phone if required.
Exclusion
An exclusion is a policy provision that eliminates coverage for some type of risk. In layman term, the following list will clarify scenarios that this insurance DO NOT cover:
1) Loss of rental
Loss of rent is not claimable in the event that there's a replacement tenant entered into a tenancy agreement with the landlord which commences tenancy prior to the end of the 4-weeks period of the loss of rent period.
Illustration: If the loss of rent is incurred on 1st July, loss of rent is inadmissible upon landlord entering into a new tenancy agreement with replacement tenant to commence tenancy on 28th July. However, loss of rent is admissible only if the commencement date is on or after 29th July.
2) Inconvenience Benefit & Household Content Section
Wear and Tear: When the household content's damage is likely due to poor workmanship / poor installation / poor construction material, it's deemed to be classified as wear and tear which is not claimable (unless there's likely an act of malicious damage by the tenant). If the aircond was malfunctioning due to overheating as a result of mineral or dust built up within the compressor, it's considered wear and tear in the course of usage which is not claimable.
Change of Door Lock: The cost of changing the door lock due to security concern as a result of the tenant did not surrender keys are not claimable.
Pests: Pests issue/vermin condition (caused by fleas, cockroaches, lice, bugs, rats or equivalent) that cause the household content to be unhygienic or unusable due to health concerns such as fridge or mattress are not claimable as well
Extreme Weather: Damage resulted from changes in extremes of dampness or dryness of atmosphere or temperature, exposure to light is not claimable (unless such loss or damage is caused by storm, frost or fire).
Mechanical Defect: Damages resulting from mechanical defects / mechanical derangement / mechanical breakdown of electronic equipment are not claimable.
Scratch: The scratching or denting of any article or cracking and/or breakage of glass, china, earthenware, marble, gramophone records and/or articles of brittle nature are not claimable (unless caused by burglars, thieves and/or fire.
Structure damage due to theft by non-tenant: It is not claimable under the policy. The inconvenience benefit section of the policy covers (a) minor repair works in the event that the Tenant runs away / abandons the tenancy and the tenancy agreement is terminated during the period of insurance. Therefore, structure damage due to theft by non-tenant does not fall within the policy coverage
When to submit?
Insurance claims can't proceed if the tenant still in the house. 
Submit your claims report within 2 weeks of the incident. After 2 weeks, requests will not be entertained.
Helpful Tips
Get repair quotation from handyman marketplace like kaodim.com and servishero.com
Get cleaning quotation from cleaning provider like maideasy.my
Get price quotes from online marketplaces like lazada.com.my or shopee.com.my
Capture multiple angles of photos to illustrate the damages on the furniture
Unable to source for the relevant contractor to fix the damage? Reach out to us at

[email protected]

as we have a list of contractors database for your consideration.
Kindly take note of the difference between quotation and receipt. You have to submit all of the receipts for claims disbursement. If quotation was submitted instead of a receipt, Allianz will not able to disburse the claims. Kindly take note of the difference between claims approved and claims disbursement, as you may submit a quotation to obtain the approval amount and proceed to engage contractor the fix the repair then you can submit the repair receipt to Allianz for claims disbursement purpose. In the context of you bought the furniture 10 years ago and you lost the original receipt, you just have to provide the quotation for the replacement unit and submit for approval. Once obtained approval, you can proceed to purchase the replacement unit and provide the receipt of such replacement for disbursement of claims.
Allianz will appoint a claims adjustor if the total claims submission value is more than RM15,000.00 and claim assessments will take up to 60 business days to complete.
Damage allowance: Landlords are advised to consider proceeding with repair first if items only sustain minor damage and still in usable condition. As Allianz will only consider for damage allowance if the items are still usable and if the landlord wishes to replace the item.
Timeline Expectation
Upon submission of relevant documents, claims can be disbursed within:
Loss of rental up to two (2) months
3-7 days
Inconvenience benefits and utilities up to RM 3,000
3-7 days
Accidental damage or theft of household content up to RM15,000
21-30 days
To understand more, kindly reach out to us at [email protected]
Ready to submit claims? Click the following button to submit: