Claims & Transparency with SPEEDHOME
Many landlords ask us how claims work and about our SPEEDHOME + Allianz Landlord Protection. About how long it takes for claims to be processed and so on. So we've decided to compile everything about both topics here 🙂
SPEEDHOME + Allianz Rental Protection overview
Our SPEEDHOME + Allianz Rental Protection covers loss of up to 2 months' rental, inconvenience benefits or minor property damage, theft of or damage to household content and up to 2 demand letters.
How much does it cost?
There are three separate plans for the insurance. Please refer to the table below.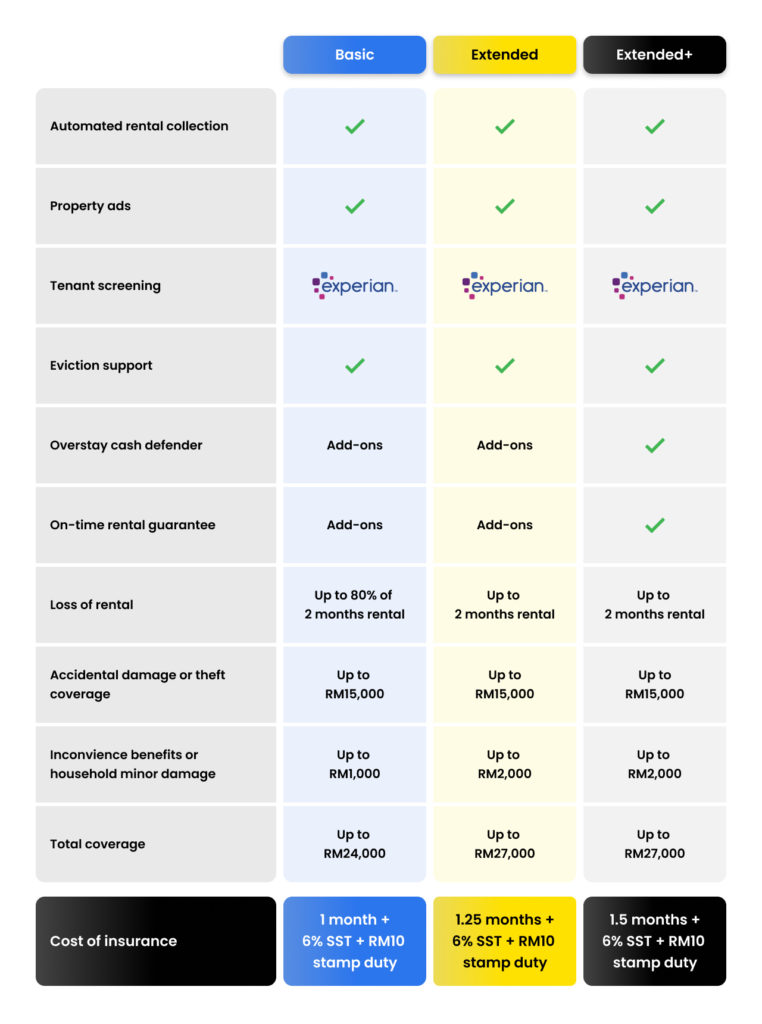 Only once you've found a tenant from SPEEDHOME and the tenant completes the entire duration of the tenancy agreement, your last month's rent will be used to get your rental protection.
When will I get the insurance policy?
A soft copy of the insurance policy will be sent to you through email within 30 working days after the commencement date of the tenancy.
Please take note that:
Home insurance is only available for those who successfully transact through SPEEDHOME with rental ranging from RM500 to RM5000.
How does claims work? What documents do I need?
Depending on what happened, all claims require a police report and their relevant supporting documents. Please refer to the table below 🙂
Inconvenience benefits

Minor damages

Theft and damage to household content

1. Outstanding bills (e.g: TNB or Water Bills)
2. E-payment form(bank account details)
3. Police report for the unpaid bills

1. Invoices/receipts/quotation for fixes along with pictures from different angles of the damages.
2. E-payment form (bank account details)
3. Police report for the damaged items

Invoices/receipts/quotation with pictures of damages/police report (theft).
E-payment form(bank account details)
Police report for the stolen item
Landlord must lodge the police report at any police station within 3 days upon tenant moved out of the house. For any item that you wish to claim such as unpaid utility, damages or rent, have to lodge in one single police report. Hence, the description of the damages and unpaid utility amount has to list out to SPEEDHOME and we will advise on the content of the police report. Kindly refer here for police report sample.
By when should I submit my claims report? / Is there a deadline for claims?
Your claims report should be submitted within 2 weeks of the incident. After that, requests will not be entertained. Please note that any loss or damage are only covered if they're accidentally caused by your default tenant.
Making things easier for you 🙂 (How?)
We understand that it's hard understanding home insurance policies sometimes, so we've simplified it for you.
You can lodge a police report at any police station but please do so within 24 hours after you find that your tenant ran away or if items are missing from your property.
Nearly a quarter of all home insurance claims (16%) are settled on the day of its submission. Otherwise, the average is 9 days.
To prevent repeat defaults, we blacklist defaulted tenants in terms of RAMCI credit score as debt.
Better than Deposit~
Financial and property security are always, always top concerns for landlords which is why the deposit exists – for just in case that the tenant causes property damage or something. But sometimes, the deposit isn't enough – which is where we come into play. With our SPEEDHOME + Allianz protection, we help you claim 2..22 times more than the rental amount.
| | | |
| --- | --- | --- |
| SPEEDHOME + Allianz | CONCERNS | Traditional Deposit |
| Loss of rental up to 2 months | Rental coverage | 2 months |
| Up to RM2000 | Inconvenience benefits or minor property damage | 0.5 – 1 month's rental |
| Up to RM 15,000 for accidental property damage and theft of household content | Accidental damage or theft coverage | Only the total amount of deposit at the beginning of the tenancy |
Hope that this answers your questions. If you have more questions or any issues, please contact our Finance team at [email protected] .
Please note that there are absolutely NO charges for posting a property, our rental collection solution, homerunners viewing management, tenant screening and everything else~