Default Rental: Who Will Pay For The Crime?
Securing Your Home
Financial security and property security are always top concerns. Which is how the traditional 3-month rental deposit before renting a house came in practice. It serves as a way to hold tenants accountable for every deed done to the house.
Partner of Allianz Malaysia
To alleviate the concern of every landlord, SPEEDHOME has partnered up with Allianz Malaysia General Insurance Berhad to offer greater financial security. Look at the table below for a comparison on how SPEEDHOME and Allianz can offer you better protection compared to the traditional deposit: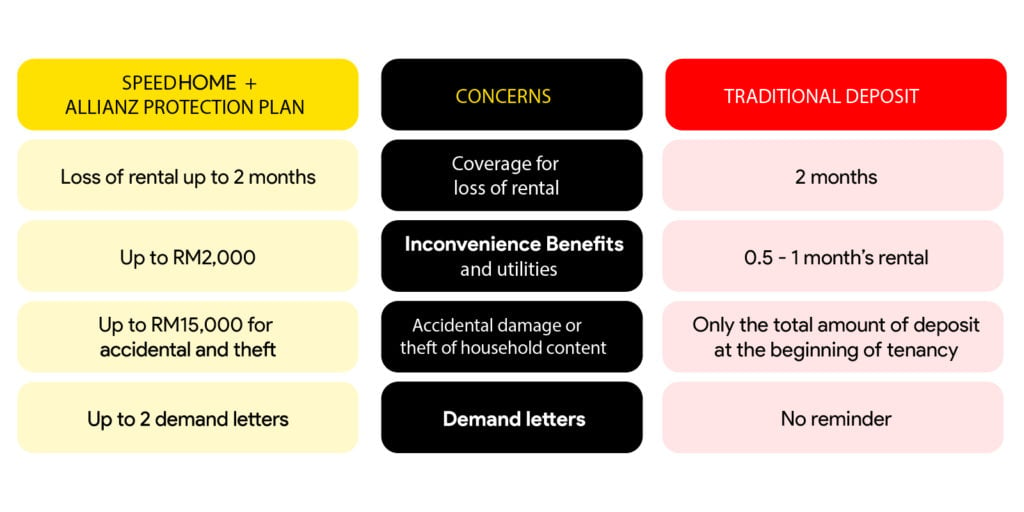 As you can see in the table, SPEEDHOME & Allianz will cover up to 2 months' rental should your tenant run away. Wondering how the whole table works? Click here for a more in-depth explanation.
Have unanswered questions? Give us a call at 0187777650. You can also email us at [email protected] and we'll get back to you about how we can arrange the best rental experience right here at SPEEDHOME.