Five Beach Front Properties to look for in Malaysia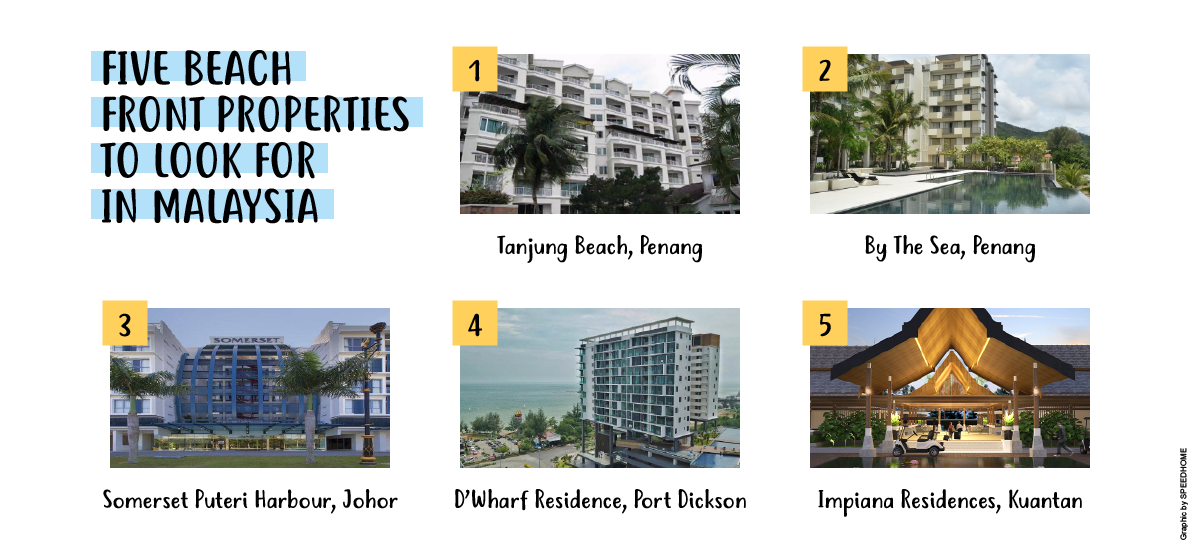 Going to the beach used to be a distant dream from our office workspaces – a destination only reachable by leaving any and all that we've worked hard on the concrete jungle, be it career, business or whatever life we may have in the city. These days, with the advent of the Internet, the nature of work has become relaxed that one can simply go to the beach daily while working from the comfort of their laps.
If such a life is within reach, why wouldn't you go heed that calling, maybe purchase a property or two to realize your dreams? Those days of simply watching TV shows where characters lay on the beach all day are over. The characters and their days are now lived by you, who managed to snatch the opportunity and defy the norms by becoming a permanent beachgoer and beachfront property owner. The saying "don't stay near the beaches if you're afraid of the waves" doesn't affect you, in fact, if anything, it burns you, even more, to live up that beach life all day every day.
After all, you can still work and make money, while the reach to the city isn't too hard at all, depending on which beach you're staying. For example, the island of Penang and the renowned Port Dickson have a handful of sea-facing properties without affecting the access to the city.
Are you motivated yet to buy a property near the beach after reading this? If you do, then go on to this list of interesting beachfront properties around Malaysia that you can look forward to buy:
Tanjung Beach, Penang
The Tanjung Beach area in Penang is an interesting spot that offers a rare amalgamation of the peace of living nearby the beach, without totally losing the access to the city that one may need at times. This is due to its strategic setup between the areas of Gurney Drive and Batu Ferringhi which have been known as a social hotbed. As a result, residents that chose to stay here are assured to have easy access to a very engaging lifestyle.
There is also no denying that the development is very low in density, just about 30 units per block. This is to allow more privacy and serenity of mind unlike the more condensed accommodations of its contemporary. Even more so, beaches are just a short walk away! That's an awesome save on transportation costs! In terms of amenities and facilities, Dalat International School is only about 7 minutes away by foot, while the bus station and wet market are also within walking distance.
Units vary by design and size, typically between 2,500 to 5,000 square feet per unit. If you're keen to rent, the baseline starts from as low as RM3,800 a month. On the other hand, purchase prices usually start of RM1.55 million.
By The Sea, Penang
Penang seems to never run out of accommodations that are close to the sea. By The Sea is yet another accommodation that allows you the opportunity to live luxuriously while being graced by nature's beauty of a beach on a daily basis, which is certainly a win for you beach enthusiasts.
This particular accommodation is also low density, only 138 built-up units found across 3 blocks, with varying sizes that start from as small as 1,027 square feet to penthouses at a generous sizing of 3,012 square feet. Not too bad right? As for the rental prices, expect a starting baseline of RM3,900. Purchase prices on the other hand typically start from RM1.7 million onwards.
If you wonder why the prices are much higher, it is justified by the luxurious facilities already offered by development, such as a gym that faces the river, a jogging track all on its own, as well as treehouse near the beachside. All these goodies added on top of the ease of access to the beach. Imagine, while others would have to get stuck into traffic or worry about parking when coming to the bustling Batu Ferringhi, you can effortlessly walk your way through to the slew hosts of cafes, pubs, and restaurants lining up the area. Isn't it too convenient? Undeniably, access to city area isn't that hard either, with Gurney Drive just within a drive away for all your city needs and stuff.
Somerset Puteri Harbour, Johor
After going through the northern properties, let us go south for a bit, by checking out this awesome Somerset Puteri Harbour. Located 20 minutes away from the Malaysia-Singapore Second Link and 25 minutes away from Senai International Airport, this accommodation is great for professionals and businesspersons that are on the go yet also need some time for the retreat while they're on their way. Legoland, Sanrio Hello Kitty Town & Thomas Town Theme Park, and Kota Iskandar are reachable on foot, should you need family-friendly entertainment.
While it is not technically located near a beach, this property is found next to a marina with a mesmerizing waterfront view, which still counts, if you ask me. Going by design, the property offerings range from the studio units, 1-bedroom units, 2-bedrooms units, 3-bedrooms units, as well as penthouses. The maximum built-up area could go up to 3,650 square feet for a unit, no doubt a generous offering from their side.
In terms of pricing, the accommodation is undoubtedly cheaper, with rental baselines at about RM3,200 a month. Starting prices are just under RM700,000 if you are keen to buy.
D'Wharf Residence, Port Dickson
Let us go up a little bit to Port Dickson, where D'Wharf Residence located. As a serviced residence that's part of the PD Waterfront, D'Wharf Residence offers more than just accommodation – it offers a lifestyle that infuses beach relaxation with great access to the city area, with Kuala Lumpur being only about an hour drive away. Even if you don't feel like going to Kuala Lumpur, there's the town of Port Dickson that's booming with many amenities to be expected of a city such as schools, cafes, malls, clinics and McDonald's among others, just a walk away from the residence.
Among the units offered include two-bedroom and three-bedroom kinds, with jacuzzies, landscaped gardens and barbecue area offered on top of it. The pricing isn't too expensive either, as you can proceed to purchase the units for a price tag that's just under RM600,000. Nonetheless,, when it comes to renting, it's a much different story compared to other properties mentioned so far – a typical 3-bedroom unit may fetch up to RM6,500 a month.
Impiana Residences, Kuantan
From the north going to the south, we go eastwards to Kuantan, yet another city that's close to the beach area. Here, Kuantan has its very own Impiana Residences that are just a stone's throw away from the well-renowned Cherating. However, it is relatively new compared to other properties in the list, having scheduled to only be completed by 2021.
What's great about Impiana Residences? Of course, the ease of access to the beach. It is generally easy to walk up to the very beach that houses the Turtle Sanctuary, where turtles come ashore to lay their eggs and are protected so that visitors can check them up close without the risk of poachers stealing the eggs. This is already a distinctive experience compared to other beach areas so far!
For the city access, the residence is just about an hour away from Kuantan with near proximity to the main coastal road of Jalan Kuantan that is just a short drive away. This road already puts the residence in the connection between the East and West Coast of Malaysia, as well as the Tun Razak Expressway linking Johor and Singapore if going down further.
As for the built-up, the units are expected to vary in sizes and layouts between as small as 566 to 1,399 square feet, with most of them guaranteed to be luxuriously furnished and fully serviced. Keen purchases will find the prices range from around RM477,000 to RM1,367,000 depending on the units of interest.
And now on to you. Skip the additionals fees. Buy and Sell properties with Zero Commission on SPEEDHOME!