SPEEDHOME's Collaborating with BonusLink to Reward Users!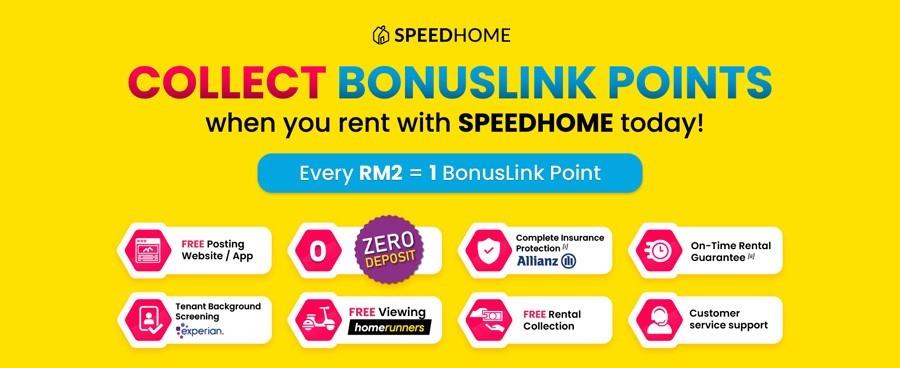 SPEEDHOME is collaborating with BonusLink to bring in more value and create a more rewarding journey for landlords listing their property and for tenants looking for a place to rent on SPEEDHOME.
Understanding the tiring and paperwork-filled journey that both tenants and landlords go through in the process of renting a property, SPEEDHOME aims to improve this journey by rewarding their effort through BonusLink – One of Malaysia's biggest and most prominent reward systems.
This amazing reward campaign which started on the 25th of January will end on the 31st of December 2021. Through this collaboration, the tenant and landlord will get a chance to collect immense BonusLink Points that they can use to redeem an endless list of goods and services at BonusLink's official partners' store available nationwide.
Both the tenant and landlord will earn 1 BonusLink Point for every RM2 they spent on their first transaction on the platform and they can easily do so with these three simple steps!

Once the tenant and landlord have signed their tenancy agreement and typed in their BonusLink card number on Speedmanage, their Points will be reflected in their respective BonusLink accounts. To find out more about this campaign's terms and conditions, you can visit the SPEEDHOME and BonusLink collaboration blog!
About SPEEDHOME
Formerly known as Speedrent Technology SDN BHD, SPEEDHOME protects your property while optimising technological innovations to be at the top of the house rental and property market. When you sign up as a landlord or tenant with SPEEDHOME, we ensure you get the best. Landlords can secure their property with Allianz General Insurance up to RM42,000 while tenants can rent with Zero Deposit! You can post your properties or search for your next rental from our enormous database for FREE! We are a non-discriminatory platform, catering to the needs of thousands nationwide. SPEEDHOME provides the most secure rental experience and affordable dream homes.
About BonusLink
BonusLink is the first company in Malaysia to provide its customers with a premier consumer rewards program. With millions of users nationwide, BonusLink has a remarkable reward system in the form of BonusLink points. You can redeem their points at several different places, starting from Shell fuel stations to Parkson in shopping malls. The points redeemed can be used for a range of Gifts and Vouchers priced affordably! You can collect more points with your family by purchasing their AmBank BonusLink Visa Card. They offer some of the best deals and point redemption for FREE!