SPEEDHOME has paid out 800K to our landlords!
Say goodbye to rental deposits; and hello to unparalleled landlord protection
SPEEDHOME
100% of landlords that claimed insurance successfully received payment
Majority of claims approved within 5 working days
More than 3000 landlords have been protected through SPEEDHOME and Allianz insurance
Life is full of risk, even by walking down the street, there's always a small possibility that you'll step on a banana skin and break your arm or worse. Maybe this scenario is slightly over-dramatised but when it comes to the property investment, the biggest investment in your lifetime, you'd probably not want to leave things to risk, right?
Talking about property investment, buying low and selling high is the most ideal situation that every property investor hope for. One must be patient, especially in the current situation.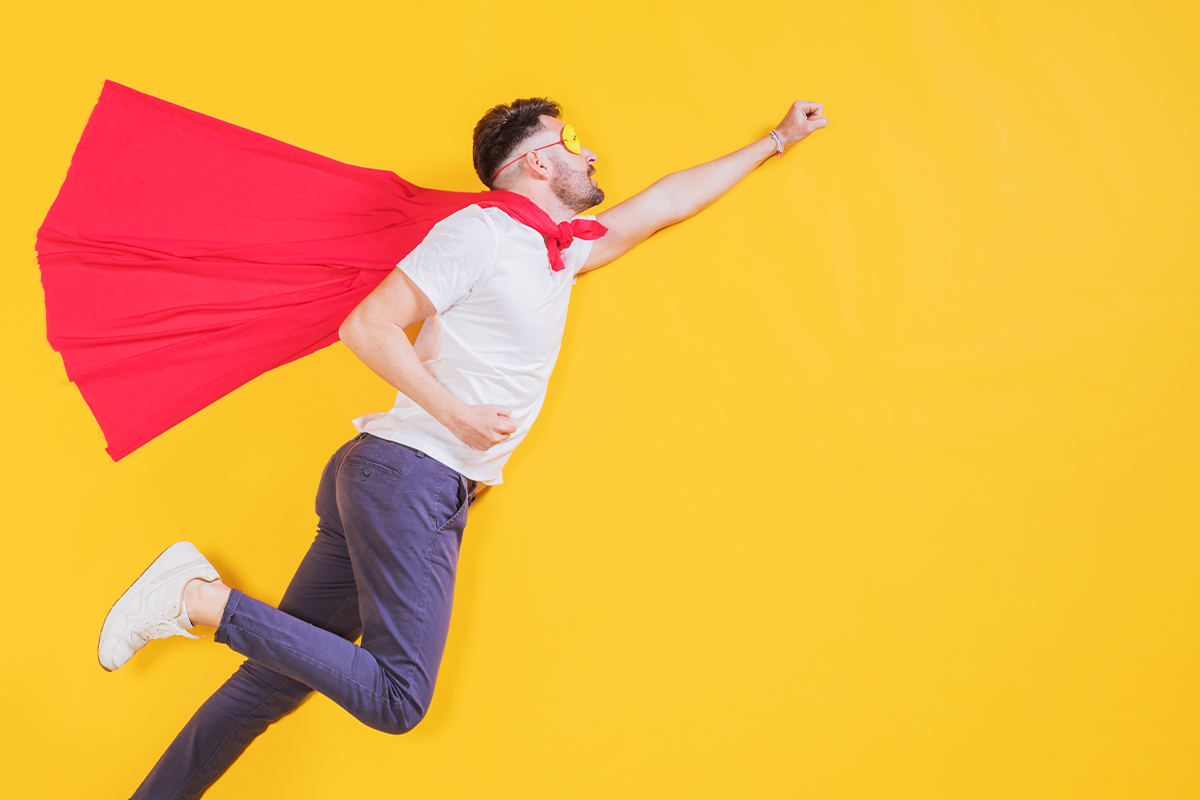 Property worry-free insurance
SPEEDHOME is Malaysia's only property platform that provides property worry-free landlord insurance, powered by Allianz. SPEEDHOME provides tenants with zero deposit, a pretty irresistable offer, ultimately leading to finding tenants, damn fast. Within just 2 and a half years, SPEEDHOME has helped Allianz sell almost more than 2000 insurance policies and helped around 300 landlords successfully claim the insurance.
Perhaps past experiences with insurance have left you feeling less than optimistic about how good insurance really is at protecting you? Trust us, we get it!
But, let us share some stats with you, that'll be sure to leave you feeling better about SPEEDHOME.
Within our 300 claim cases, 60% were approved within just 5 business days. Out of the remaining, 90% of cases were approved within just 15 business days.
To be fully upfront with you, some cases do take more than 30 business days but this only accounts for 2% of our claims. These were primarily in the early days of SPEEDHOME and since then, we have firmly set SOPs that prevent such lengthy cases ever since.

No one is perfect, much like us. However, we as a company have always worked towards improving and fast…. We ain't called SPEEDHOME for nothing!
To prevent repeat defaults, we blacklist defaulted tenants in terms of RAMCI credit score as debt. This ensures that our landlords get great paymasters and good quality tenants.


Claim Process steps
Upon your tenant defaulting (meaning they did not pay on time or broke the house rules), you are able to claim from the insurance. Here are the 3 documents that you will need to submit:
1) A police report
2) A photo after the tenant has left the house (we recommend a high res image)
3) Back statement picture
Click here to know more now
You'll also need to fill an E-Payment form.

Download here and Allianz able to initiate payment advice to you.
https://drive.google.com/file/d/1ZmfOiORcaH21BZ9sW551J8okf9x1Y13l/view?usp=sharing .
How can I get a better claim amount?
Very simple you just need to prepare the following pricing documents while you submit the claims.If without an original receipt, we will strongly suggest you attached all the furniture photos in the tenancy agreement to avoid the uncertainty of the claims.
When to submit
Insurance claims can't proceed if the tenant still in the house.
Submit your claims report within 2 weeks of the incident. After the 2-week period, we are very sorry to tell you we can proceed with the claiming
Our Happy customer's review
References 
Get repair quotation from handyman marketplace like kaodim.com and servishero.com
2. Get cleaning quotation from cleaning provider like maideasy.my
3. Get price quotes from online marketplaces like lazada.com.my or shopee.com.my
4.Capture multiple angles of photos to illustrate the damage occurred on the furniture
5.Unable to source for the relevant contractor to fix the damage? Reach out to us at [email protected] as we have a list of contractors database for your consideration.
Comparison of the item that has been approved and not approved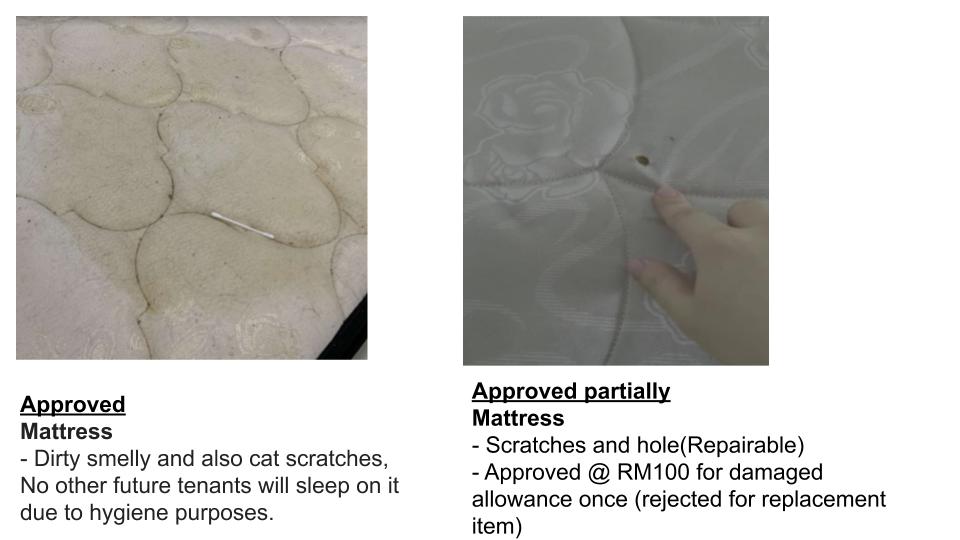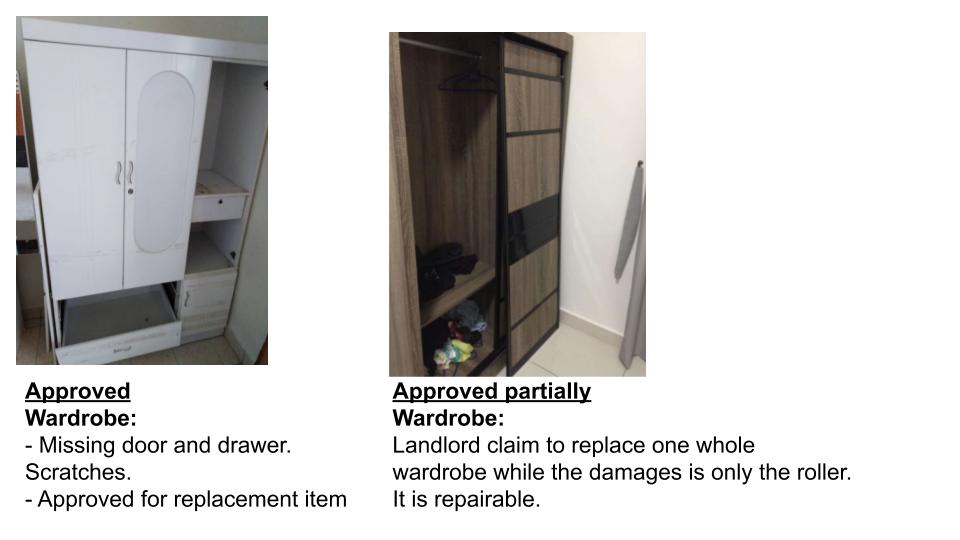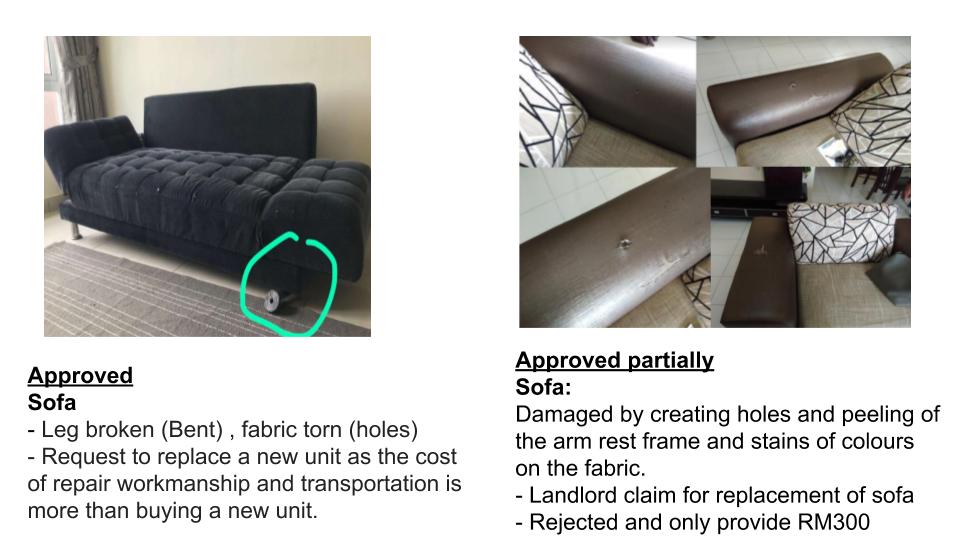 Important notes
Kindly take note of the difference between Quotation and Receipt. You have to submit all of the receipts for the purpose of claims disbursement. If the quotation was submitted instead of a receipt, Allianz will not be able to disburse the claims.
Kindly take note of the difference between claims approved and claims disbursement, as you may submit a quotation to obtain the approval amount and proceed to engage contractor the fix the repair then you can submit the repair receipt to Allianz for claims disbursement purpose. In the context of you buying furniture 10 years ago and you lost the original receipt, you just have to provide the quotation for the replacement unit and submit for approval. Once obtained approval, you can proceed to purchase the replacement unit and provide the receipt of such a replacement for the disbursement of claims.
Claims adjustor will be appointed by Allianz if the total claims submission value is more than RM15,000.00 and claim assessments will take up to 60 business days to complete.
Related article
1.We turn down 119 applicants per job vacancy. Hiring mind-blowing talents only!
2.SPEEDProtect: Don't forget to insure the biggest asset in your life!
3.Steal this secret to rent out your home within 3 days