Tenant Screening Made Easy – No, Seriously.
Having a random stranger move into your house and trusting them to take care of it is a huge leap of faith, to say the least.
I mean, you're talking about someone who you know nothing about. Nothing at all. Not doing a tenant screening is like letting a stranger drive and use your car with no prior information and protection!
Tenant screening? What's that? Never heard of it!
Well, if you have never thought about doing tenant screening, then you've come to the right place! Here's how we can make it super easy for you!
If you're not going to screen your tenant, are you going to let a stranger into your house? Don't you want to decrease the risk of having a tenant from hell? Many landlords complain about having tenants from hell – from broken kitchen cabinets to destroyed toilets, ruined carpets to cracked windows, the list is endless!
Yeah, not kidding! The long-term benefits of tenant screenings far outweigh the bad, cause you're taking the time to minimise the risk of getting a tenant from hell.
Minimise the risks now so you don't have to deal with broken electrical appliances, damages and stolen furniture in the future. Don't put off this important part of the tenancy just so you can generate quick passive income. Trust us, at the end of the tenancy, you might not have a house to rent out anymore.
It might be time-consuming, and you might not know where to start – but what if you had someone to do it for you? Don't worry! We at SPEEDHOME do background checks on all our landlords' potential tenants. This includes asking them questions about why they're moving, verifying their employment or student offer and more.


Documents We Require
Wondering what documents we check? We check their credit score and history to see if they're good paymasters by verifying a few documents. Refer to the table below: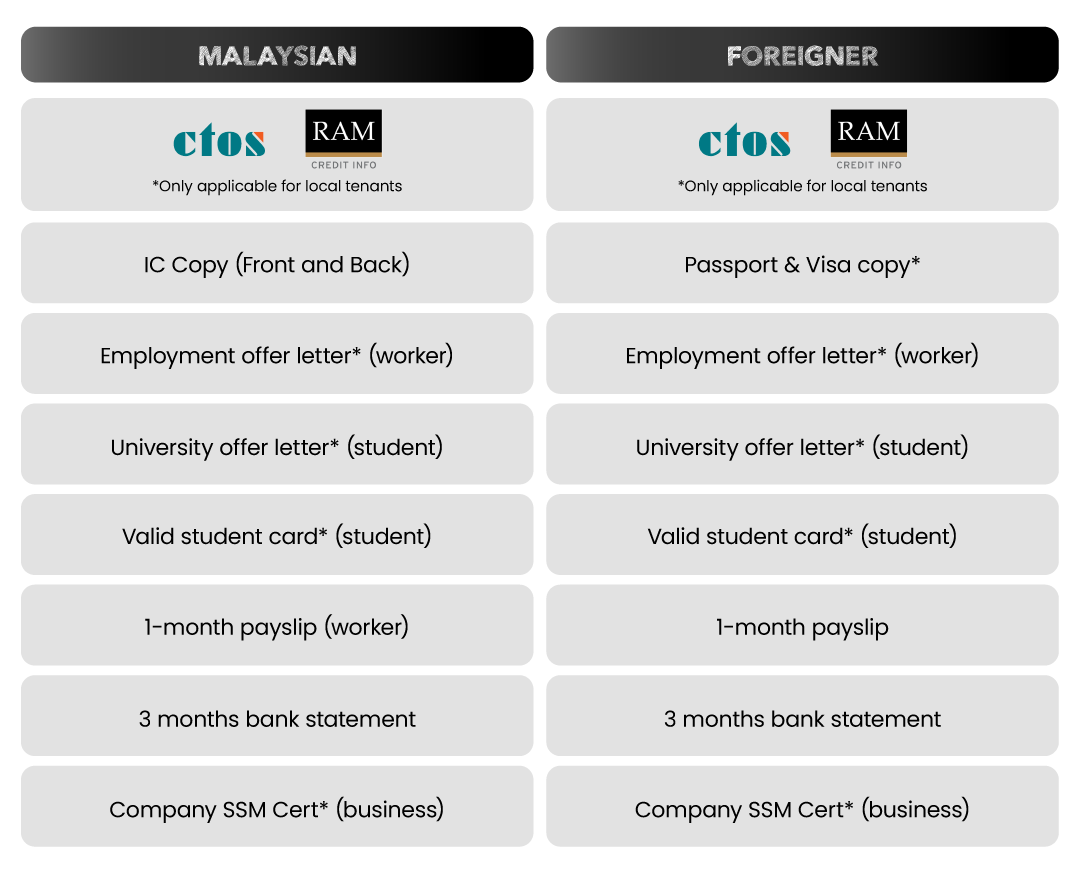 *The documents that need to be submitted above need to be certified by the commissioner of oath (business owners) or Certified True Copy by your University (students).
In addition to the documents above, tenants will also need to pass SPEEDHOME's Psychometric Test. We also check their credit score and history to see if they're good paymasters. You can refer to Zero Deposit Eligibility Check Documents to further see what documents we request from your prospective tenants to proceed with the tenancy. 


Why Do We Do This?
We believe landlords should be protected during the tenancy period and it should start even before the tenancy period begins through a meticulous tenant screening process. Here are why we think it's important to do tenant screening:
To filter quality tenants for our landlords
To ensure a healthy tenant pool
To minimise the risk for landlords
To avoid tenants using fake identities
By doing this, landlords feel more secure and are more at ease in renting out to others. Of course, vetting doesn't exactly cover potential damages (we're good, but we're also human) – so we also provide landlords with Rental Protection Plans that can protect them up to RM72,000.
In short, we vet your potential tenants and provide protection up to RM72,000. All you have to do is just post your property on our platform and let us take care of the rest.
Related Articles
Background Check with 360° screening
How SPEEDHOME + Allianz Protects You