Affordable Properties To Rent Near Kelana Jaya LRT Line!
In all honesty, public transportation is something that most city-people cherish. If you have ever lived in a city where traffic jam happens on the daily, then public transportation, like LRT, is able to take you to your destination in a much shorter time period. You would arrive at your destination without the hassle of driving and parking in a jam-packed, expensive, fully-parked city like KL. In fact, everyone who has ever traveled to KL city-centre during rush hour would know how much of convenience is the existence of public transport.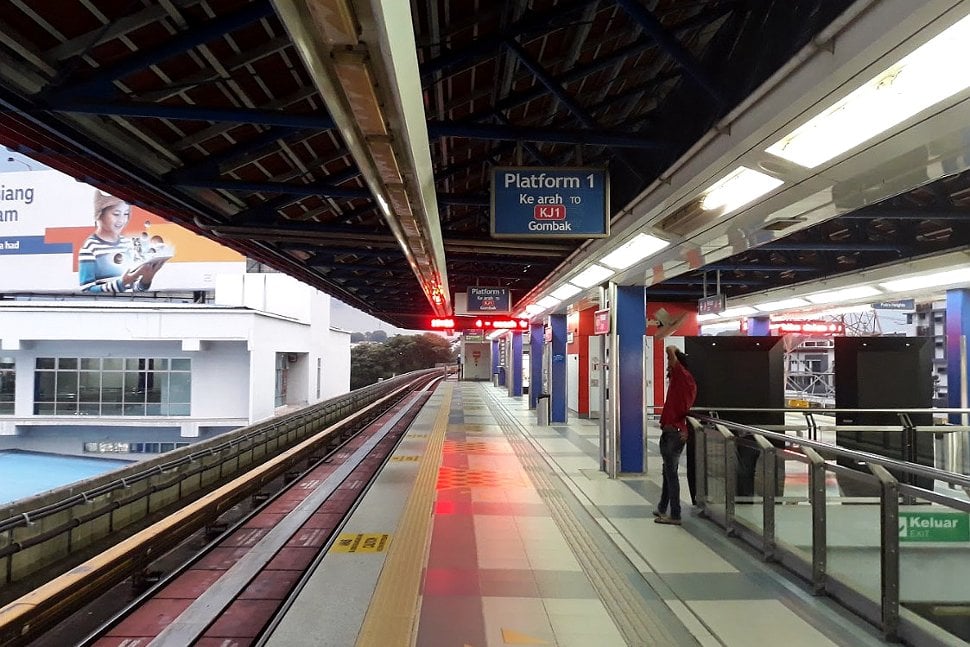 One mode of public transportation that has served KL-ians and Selangor-ians well is the Kelana Jaya line LRT service. As of today, Kelana Jaya LRT line remains as Asia's longest self-empowered rapid transit. The Kelana Jaya LRT line service has a total of 37 stations altogether. This line covers a distance of 46.4 kilometre. Hence, if you are one of the people who are lucky enough to own or rent a property near any of the stations, I would like to say kudos, you have made the right decision! *virtually applauds*
Therefore, properties near these Kelana Jaya LRT line stations have enjoyed a much bigger growth in their rental yield. Similarly, these properties also have garnered a lot of demands from buyers and also renters. So, if you ever think about venturing out in the world of property investment, this is where the money-maker is. Did you know that at SPEEDHOME, you are able to get a list of direct owner houses for rent, as well as post rent advertisements for free!
Today, we are going to show to the Top 9 Affordable Properties To Rent Near Kelana Jaya LRT Line that we think you would love!
Seri Maya Condominium
Seri Maya Condominium, located in Jalan Jelatek is just 180 metres away from the Setiawangsa LRT station. That means if you live here, it won't even take you 5 minutes to get there by foot! Just imagine how much time you are able to save!
This property comprises of two types of building which are high-rise and low-rise residential buildings suitably named Jelatek 1, Jelatek 2, Havana, and Savanna. The latter two are the units that are fully furnished and are ready to be let out. Not only does Seri Maya Condominium have a modern layout with a panoramic view, but additionally, it is also equipped with incredible facilities. For instance, these facilities include a meditation corner, futsal court, a jacuzzi, swimming pools and many more.
The average size of a unit here is between 1,147 square feet to 3,500 square feet, depending on the type of building they offer. Ultimately, if you are interested in becoming a new home-owner in this property, the average price for the whole unit in Seri Maya Condominium is RM633,750. Whereas, if you are interested in becoming a renter, the average rental price is between RM550 to RM3,600. What a bargain, eh?
Putra Villa Condominium
Putra Villa Condominium in Gombak is located in a very strategic location. In spite of being just 500 metres away from Gombak LRT station, this condominium also has a direct connectivity to Middle Ring Road 2 (MRR2) Highway. Hence, no matter whether you have a transportation of your own to commute, this property is great for you! Additionally, this condominium is located 2.3 kilometres away from Tunku Abdul Rahman College (TARUC).
Although Putra Villa Condominium is an older property building, yet it has been built with wholesome facilities such as a laundry service, a swimming pool, a mini market, a gymnasium and also a cafeteria. You basically have everything that you need to live a good quality life.
The average size of a unit here is in between 1066 square feet and 3,322 square feet. Consequently, the bigger size units would be more expensive but a 1066 square feet is comfortable enough. This is especially so if you are living alone or with a small family. If you are going to rent this condominium, expect a monthly rental price ranging from RM1,500 – RM2,000. The price is worth all the facilities and the location of this property building.
Suria Jelatek Condominium
Suria Jelatek Condominium is, in fact, one of the cheaper luxury condominiums located in the area of Ampang Hilir. Why did I say so? This condominium building is only 550 metres away from Jelatek LRT station. This means that travelling to the rest of Klang Valley is not much of a hassle. On top of that wonderfulness, this building also has a direct access towards Jalan Tun Razak, the MRR2, also the Ampang-Kuala Lumpur Elevated Highway (AKLEH). Adding to that, Suria Jelatek Condominium is located just next to the Embassy Row and a few minutes away from shopping malls like Pavilion and Suria KLCC.
For your information, all the units in this condominiums are fully-furnished. In addition, residents are able to enjoy awesome facilities like the gym room, game room, the launderette, also the sundeck area. Furthermore, considering its location which is right smack in KL city-centre, the price per square feet is surprisingly low, at only RM384 per sq ft. Whereas, the size range of the units are in between 858 square feet to 1420 square feet. Also, this condominium was completed in the year 2010 which does not make it too old to live in. The asking rental price is from RM1900. Based on the prime location, no one can be mad about that.
Vista Angkasa Apartment
Even though Vista Angkasa is probably one of the oldest apartments in Kampung Kerinchi (Bangsar South), but its prime location has never stopped anyone from moving in. Located just immediately behind Universiti LRT station which is 350 metres away from the apartment, a lot of the residents staying in this building are the students from Universiti Malaya.
A lot of them prefer staying in Vista Angkasa Apartment due to its low rental cost and distance from their campus. It's only 2 kilometres away, hunny! That's like 3-4 songs of walking time! In Malaysia, there are minor differences between the types of property buildings, which you can read about here. Hence, Vista Angkasa Apartments was built with standard facilities such as a swimming pool, a playground, and a mini-market. They are also equipped with a guardhouse that will see the comings and goings of strangers to maintain a level of security towards its residents.
As I said before, Vista Angkasa is popular amongst students due to its low rental cost. The average monthly rental cost is about RM450 to RM2,100 depending on the size of units. The units here also range from 420 square feet to 1,900 square feet.
Suasana Sentral Condominium
Suasana Sentral Condominium might be located in the most strategic location in this whole list. This property building is located within the commercial area of KL Sentral. It is 260 metres away from KL Sentral, to be exact. That means the residents here not only have the option to go on the Kelana Jaya LRT Line, but they also have the option of traveling via LRT, KTM, MRT, Monorail, ERL, KLIA Express, ETS, and intercity busses. This is all due to the property building being in close proximity to KL Sentral. Wow, imagine that. You are able to go anywhere because you literally are a few steps away from the most famous integrated transportation hub in KL.
But fret not, Suasana Sentral Condominium also has its own awesome facilities to attract residents. Their facilities include a jacuzzi, a badminton hall, a sauna, a gymnasium, a playground and a BBQ area. Obviously, this condominium also has a tight security to guard its fellow residents.
Another great thing about Suasana Sentral is that even their smallest unit is kind of huge. Suasana Sentral consists of 400 residential units with a build-up size ranging from 1,432 square feet to 6,072 square feet. That's huge! But, the convenience of a big space, plus being in such close proximity to an integrated transportation hub might come at a certain price. This property building also might be the most expensive residential unit in this list. Although, by no means it is crazy expensive that everyone would just scoff after looking at the number. The average price of rental per month here is around RM4,000. The price is well-justified, though, right?
Corinthian Condominium
Corinthian Condominium, KLCC, is a high-end residential building that is located in the KL city-centre. This residential building is just shy of 300 metres away from Ampang Park LRT Station. But not only is it located near a LRT station, but along the road, you can also find some of KL's best fine dining restaurants. These restaurants include Fuego, Strato, and Cantaloupe at Tropika Sky Dining.
Residents at Corinthian Condominium also enjoy the centrality of the property as KLCC and Bukit Bintang are within a walking distance of 3 kilometre away from the building. One of the other conveniences of this residential building is that international schools such as EtonHouse Malaysia, Iranian School, and Sayfol International School is scattered in the same neighbourhood.
This residential building has an average price of RM567 per square feet. Whereas, the build-up size of each unit is in between 1,509 square feet and 4,123 square feet. It is definitely spacious enough for the whole family. The condominium is also completed pretty recently which is in 2016. Hence, it has a modern touch for those who enjoy modern architecture.
Desa Putra Condominium
Desa Putra Condominium located in Wangsa Maju is just 450 metres away from Sri Rampai LRT Station. This 436 units residential building is also only 600 metres away from Wangsa Walk Mall. Like any other residential building near a commercial area, it is equipped with other amenities such as schools, banks, clinic, fast-food chain restaurants, cafes and a lot more.
This condominium has an excellent transportation link as it is within walking distance to Sri Rampai LRT station. At the same time, it is still accessible to other parts of Klang Valley via highways like DUKE, AKLEH, and MRR2. Not only that, this residential building is surrounded by lush greenery while residents in higher-level units can enjoy scenic view of KL city skyline.
On average, the median price per square feet for units in Desa Putra Condominium is RM474. Whereas, the range for unit size build-up is between 1,246 square feet to 1,340 square feet. Completed in 2007, this residential building still manages to look modern.
Wangsa Metroview Condominium
Wangsa Metroview Condominium sits at the prime and matured part of Wangsa Maju. Located just 600 metres away from Wangsa Maju LRT Station, it benefits a lot from the excellent connectivity to DUKE and MRR2. This means that the residents who decide to stay here are able to access other parts of KL rather easily.
Wangsa Metroview Condominium is not very far away from the armed forces hospital (Hospital Angkatan Tentera Tuanku Mizan) which is 1.8 kilometres away, Zoo Negara (3.2km), and Dataran Wangsa Melawati (2.1km). Also, residents of Wangsa Metroview can commute on the train for destinations further afield as the Kelana Jaya Line passes through KLCC and KL Sentral for a network of interchange stations.
The average build-up size of the units here in Wangsa Metroview is 1,150 square feet. Plus, for a monthly rental price in the range of RM1,399 to RM2,100, it is absolutely inexpensive given the amount of space provided and the prime location of this property building.
Chymes @ Gurney Residency
Chymes Gurney is one of the freehold residential condominiums located in Jalan Gurney of Keramat. Day by day, this residential building is expanding to be part of main territory of KL. This residency was developed by UEM Edgenta Bhd which is one of the subsidiaries for UEM Group. This somewhat affordable luxurious condominium is made up of two towers which have a total of 225 units.
Chymes Gurney is located in a prime location as it is just 800 metres away from Damai LRT Station. This residential building also has access to the KL city-centre and even a Mini UTC which is located in Keramat itself.
On top of that, residents of Chymes Gurney are able to enjoy modern facilities such as a rooftop gymnasium, rooftop BBQ pits, hammock garden, and a swimming pool. As an added bonus, they also have a sun podium, a reflexology path and even a moonlight terrace where you can enjoy picturesque view of KL city!
Wow, for that many awesome facilities, you must be wondering whether the monthly rental cost is sky-high! Well, surprisingly, not really! The average rental price per month in this awesome residential building is from RM799 and up to RM5,500. Moreover, this condominium is relatively new than the others as it was completed in the year of 2016.
In conclusion…
Everyone's life would be a lot more meaningful when we spend less time commuting. Although there are a lot of residential properties which are in close proximity to transportation hubs all over Klang Valley or Selangor, more often than not, the monthly rental price for those properties are high. In order to combat that, we have given you a thorough list of affordable properties to rent near Kelana Jaya LRT line. There are also a few more residential properties that are worth mentioning like M3 Residency, Legasi Kampong Bharu, and also Suria Damansara Condominium. So, what are you guys waiting for? Go to SPEEDHOME right now in order to get the cheapest deals possible for the residential properties that we have mentioned above. Don't wait around because as the according to the saying that says, you snooze, you lose!