In order to provide a more convenient and secure experience for our users, SPEEDHOME is encouraging all tenant and landlord to complete their transaction using the FPX payment link.
What is FPX?
Financial Process Exchange(FPX) is a reliable internet based payment gateway that allows real-time payments for online purchases or bill payments using your Savings/Current account or even Credit Card (available for selected merchants only). FPX is operated by Payments Network Malaysia Sdn Bhd (PayNet), a wholly-owned subsidiary of Bank Negara Malaysia. Kindly refer here for more details.
To pay using FPX, kindly follow the steps below:
Ensure pop-up blocker of your browser is disabled.
Select FPX as the payment option at the merchant website.
Select your preferred bank and you will be directed to the Internet banking log-in page.
Proceed to log-in and complete the payment.
Upon a successful transaction, separate notifications will be sent from the merchant, bank and FPX System respectively.
FPX service operates from 1:00 am to 12:00 am daily, including public holiday. However, sometimes FPX service is dependent on the participating banks' Internet banking service availability.
How to pay rent via FPX in SPEEDHOME?
Step 1: Click on the rental payment link given via email or WhatsApp reminder.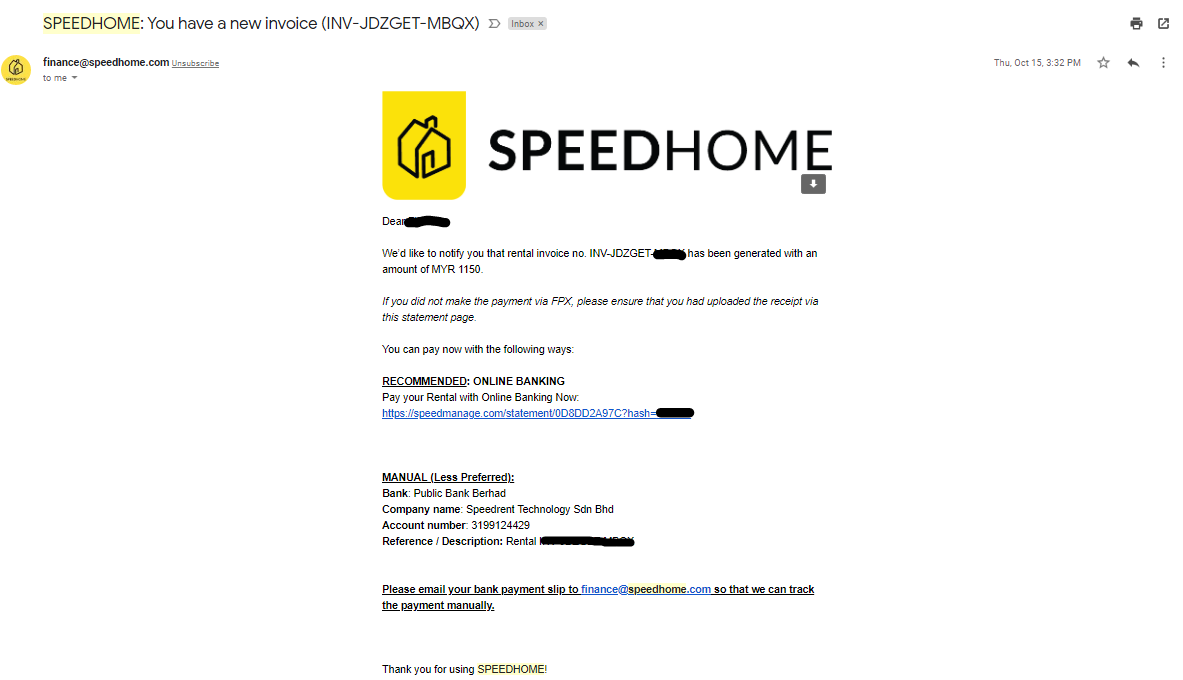 Step 2: You will be directed to this page. Check the field "Amount you want to pay".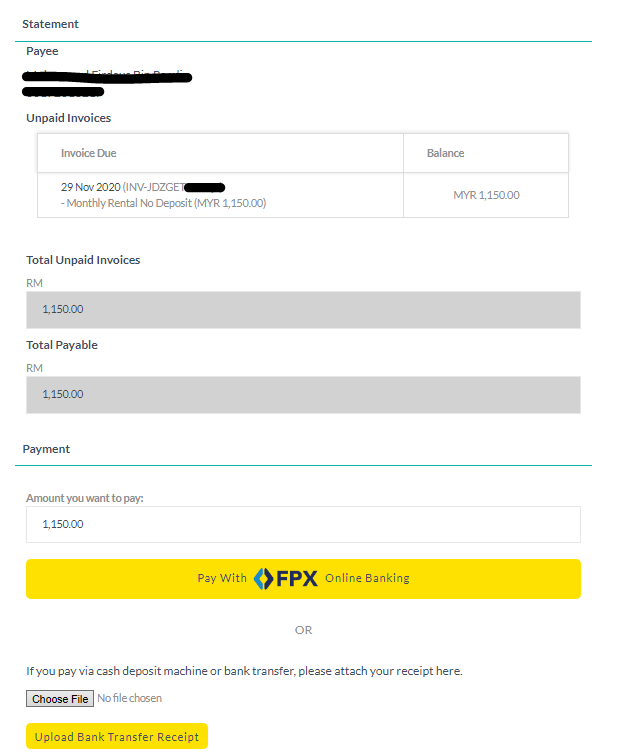 Step 3: Select "Pay With FPX Online Banking" to proceed with the payment.
Step 4: Select the bank you wish to make the payment with. Make sure you fill in your email address to receive the notification via email from FPX. Then click "Proceed".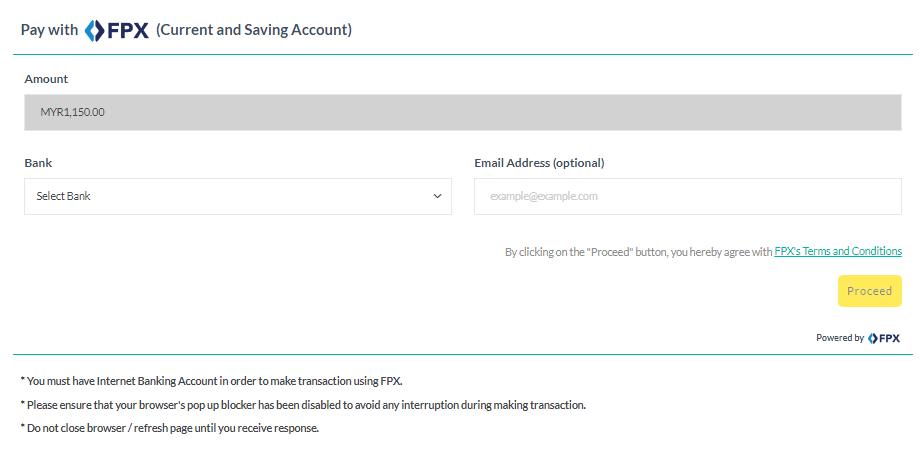 Step 5: Check the details again before proceeding with the payment page, especially the merchant name, amount and your bank that you would like to proceed with. Then click "Proceed".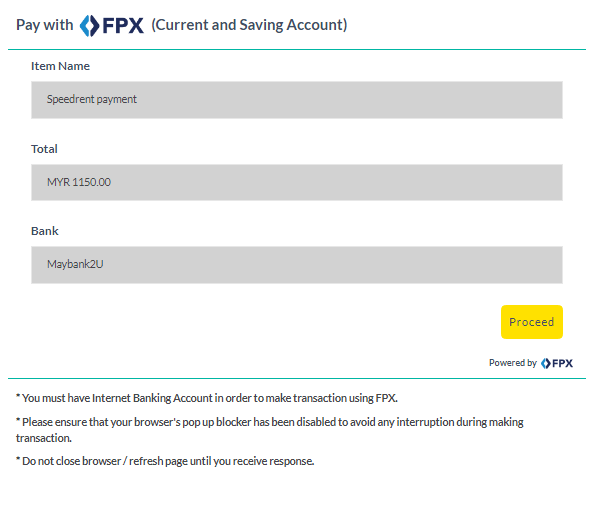 Step 6: You will be directed to your online banking page to log-in and make the payment.
Step 7: You will receive a Transaction Authorisation Code (TAC) via SMS from your bank provider to complete the transaction.
Step 8: Upon payment completion, you will receive notification from SPEEDHOME, FPX and your bank provider on the transaction statement.

Step 9: We will receive your payment within a few seconds and the landlord will receive it within 3 working days.

Note: Tenants are required to pay their rent on time or before the due date every month as per the agreement. Appropriate actions will be taken for overdue rental payment.
---
Frequently Asked Questions
---
1. Can I pay using FPX straightaway?
Yes. You can use FPX straightaway as long as you have an active internet banking account with any of the FPX participating banks. No registration is required with FPX.
2. How can I identify if a merchant accepts payment with FPX?
The FPX logo or wordmark is displayed at the merchant's website or checkout page.
3. What is the minimum and maximum transaction limit for FPX?
For retail/personal banking account, the minimum limit per transaction is RM1.00 and the maximum amount is limited up to RM30,000* per transaction. For company/corporate banking, the minimum limit per transaction is RM2.00 and the maximum amount is limited up to RM1,000,000* per transaction.
*The above limit is subject to your internet banking withdrawal limit with your bank, whichever is lower.
4. I have made a payment using FPX, how can I know that my payment is successful?
There are 3 methods in which you will be able to know that your FPX transaction is successful:
a. Online receipt provided by FPX
b. Email notification sent by FPX system (provided that you have entered your email address at FPX bank selection page).
c. Online receipt provided by your merchant.
5. What are the FPX participating banks?
| | | |
| --- | --- | --- |
| AFFIN BANK | AFFIN ISLAMIC | ALLIANCE BANK |
| ALLIANCE ISLAMIC BANK | AM BANK | AM BANK ISLAMIC |
| BANK ISLAM | BANK MUAMALAT | BANK RAKYAT |
| BSN | CIMB BANK | CIMB ISLAMIC |
| CITI BANK | DEUTSCHE BANK | HONG LEONG BANK |
| HONG LEONG ISLAMIC BANK | HSBC | HSBC AMANAH |
| KUWAIT FINANCE HOUSE | MAYBANK | MAYBANK ISLAMIC |
| OCBC BANK | OCBC AL-AMIN | PUBLIC BANK |
| PUBLIC ISLAMIC BANK | RHB BANK | RHB ISLAMIC BANK |
| STANDARD CHARTERED | STANDARD CHARTERED SAADIQ | UOB |
| BNP PARIBAS | | |
6. While making payment using FPX, I have received an error / unsuccessful message. However, the money has been deducted from my bank account. What should I do?
In the event that your account has been deducted but the transaction was unsuccessful for some reasons, your money will be credited back into your account by your Bank. You can contact your Bank for the reversal status by providing the FPX Transaction ID or Merchant Order No. as a reference. You may also provide the screenshot of your payment that displays the FPX Transaction ID or Merchant Order No.
7. The merchant claims it has not received my payment although the FPX transaction status is successful. What should I do?
FPX transaction status is final and the merchant is obligated to deliver the goods/services or to update your payment in a timely manner. In this case, you should contact the merchant for the delivery of your goods/services purchased. You can provide the necessary details such as the online receipt issued by FPX/merchant or the email notification received from FPX that contain the following details:
i. FPX Transaction ID;
ii. Merchant Order No;
iii. Payment amount;
iv. Date and time of the payment.
8. Can I cancel a successful FPX transaction?
No. It is not possible to cancel a successful FPX transaction via the system. However, you may request your merchant for such cancellation, subject to the merchant's policy.
9. How can I find answers for my other questions about FPX?
For further inquiry and clarifications on FPX payment, please contact your preferred FPX participating Banks.
10. Is my transaction via FPX really secure?
FPX uses high standards of authentication and certification to ensure all transactions are secure.
11. What is the availability of FPX services?
Currently, FPX service is available 24 hours daily at most of the FPX participating banks.
*Depending on the participating banks' internet banking service availability.
12. Is FPX service meant for individual payment only?
No. FPX service can support both payments by individual and corporation depending on the model subscribed by your merchant. Payment made by an individual is known as Business to Consumer (B2C) model, while payment made by a corporation is known as Business to Business (B2B) model.
[FAQ source from Payments Network Malaysia]
Updated on 30th November 2020