What is The Best and Safest Form of Investment?
Everyone has been talking about investments for years in order to generate profitable passive income. To be sure, all types of investment come with a degree of risk, but there some very good reasons why many people have chosen real estate as their route for investments.
Certainly, rental revenue is not the highest possible return on investment as compared to high-yield bonds or the individual stock market. However, there is a high probability of financial losses as well. However, the true advantage of rental property is for people looking for mid to long term investments. Typically, such investments are for people who have a reasonable tolerance for risk, looking for a stable and steady income and are unlikely to convert the investment back to cash in less than 18 months. If that sounds like you, then property investment is right for you.
However, even if that is not the type of investment you are looking for, a general rule of thumb when it comes to investment is to diversify your portfolio. A good way to diversify your investment is to manage your risk better is to invest in property. There are 3 key things to making your property investment worthwhile:
Buying your property below market value to maximize appreciation gains.
Buying with cash and lower cost of purchase (no borrowing-related fees).
Understand enough about your target market and what rents/sell well.
Risk is unavoidable in any investment, but SPEEDHOME is one of the safest places to list your property as it eliminates many of the risks associated with property rental.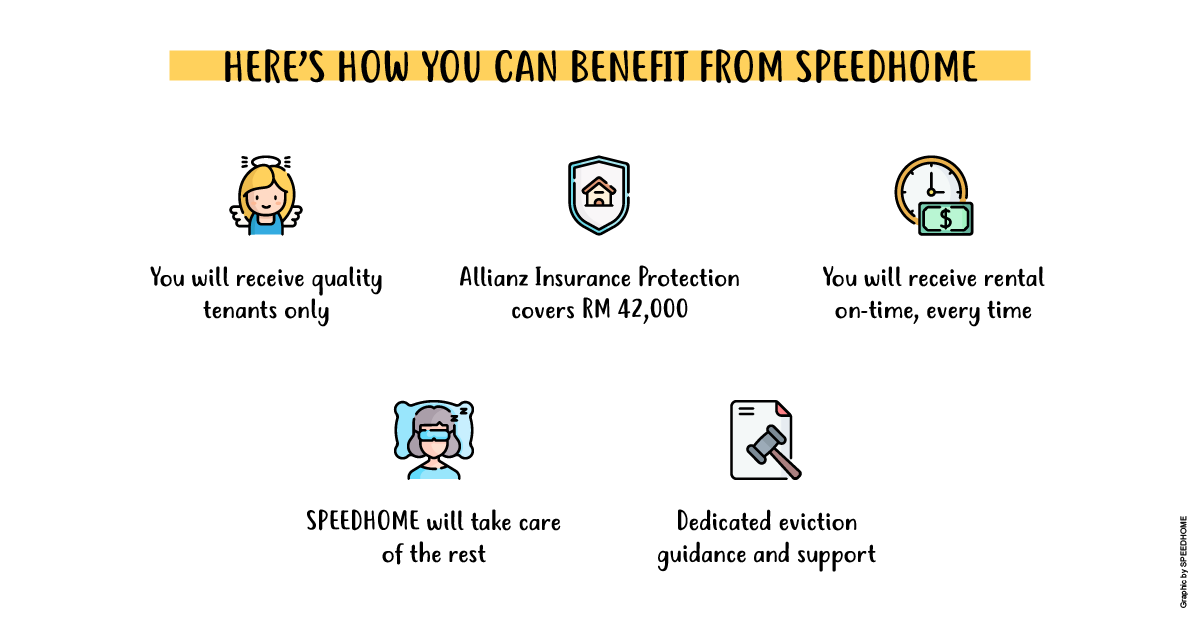 You will receive quality tenants only
SPEEDHOME is strict as a bank when it comes to running CCRIS & RAMCI credit checks ensuring that you get a good paymaster every time. Plus, you will have the chance to communicate with your potential tenants via SPEEDHOME private message system.
Allianz Insurance Protection covers RM 42,000
With the Allianz Insurance partnership with SPEEDHOME, your property is protected up to RM42,000 which includes covering damages, theft, unpaid utilities, unpaid rental, etc.
You will receive rental on-time, every time
With SPEEDHOME's on-time rental, regardless of whether your tenant pays you on the due date, you'll receive the money on-time every time from us.
SPEEDHOME will take care of the rest
This is probably by far the best feature that SPEEDHOME offers. What you only have to do is post your property listing ad (which is free, of course.). Then, our homerunners team will meet your tenant for you and close the deal. So just post your property, and they will do the rest.
Dedicated eviction guidance and support
If a tenant defaults or is about to default, SPEEDHOME's Operations team will guide you with the eviction process so you never have to do it alone.
Renting is definitely one of the best investments one can pursue, but its important to be realistic with your capacity to invest and also be realistic with the kind of returns you are expecting. Risk is unavoidable, but remember, nothing ventured nothing gained!