5 Things to Know When Buying Properties in Malaysia
Is this your first time going into real estate in Malaysia? Agreeably, buying a property in Malaysia could be uneasy the first time around, regardless if you're just a buyer looking for a house to stay or investor looking to make an asset off a property.
However, rest assured that those efforts are worthy. Do you know that the property market in the country is open to foreign investments? Indeed, foreigners are allowed to own freehold properties or at least stay in possession of a property for 99 years through leasehold titles. Recently, a program called Malaysia My Second Home (MM2H) is also gaining traction from foreign in Singapore, Hong Kong, China and many more for the attractive prospect of staying in Malaysia.
This only goes to show the confidence in the market and how lucrative it is, be it to locals and foreigners alike. So, to help the readers, let us go through some of the things to know when buying properties in Malaysia.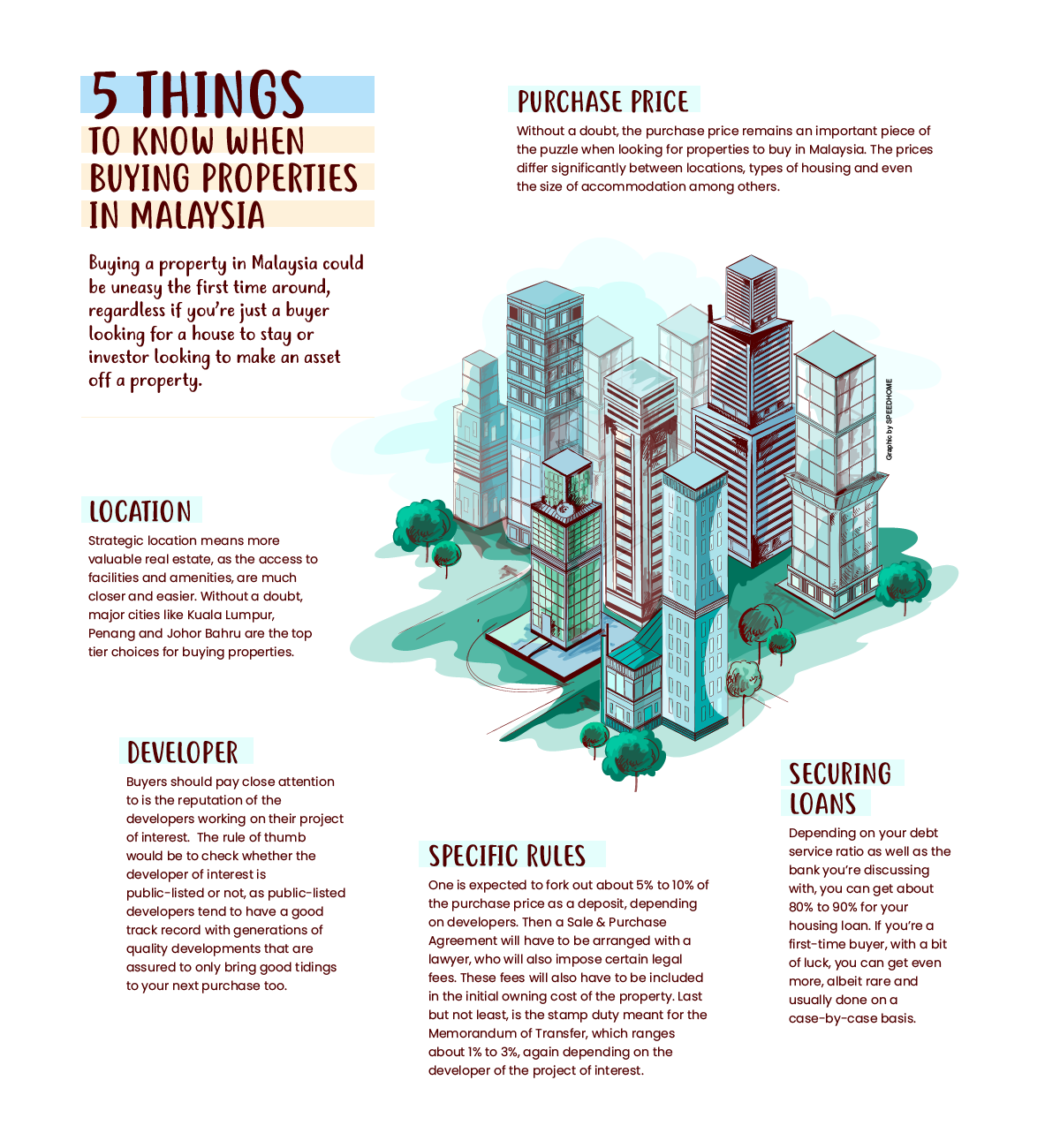 Make sure to read this carefully because we have a secret hidden gem to let you know by at the end of this!
Location
Undeniably, location plays a major concern in buying properties in Malaysia. Strategic location means more valuable real estate, as the access to facilities and amenities, are much closer and easier. Without a doubt, major cities like Kuala Lumpur, Penang and Johor Bahru are the top tier choices for buying properties, with Melaka trailing closely behind. Kuala Lumpur as the federal territory is certainly a great place to buy properties, with its close distance to the international airport. Penang on the other hand would offer dreamy beach destinations with convenient city reach. Johor Bahru is tempting especially for Singaporeans, due to their higher buying power and proximity to the country. Whether you're buying it for your own stay or for investment, you are assured to higher returns just by simply aiming your purchase around these areas.
This also means that competition is much stiffer between buyers, as a lot of people will also aim to secure their purchases around said areas as well. Worry not, as developers are catching up and churning new projects every other month. To keep up with the latest launches, check our other article on how to get into the know about the newest launches in town, especially around Kuala Lumpur
Developer
When buying properties in Malaysia, one thing that buyers should pay close attention to is the reputation of the developers working on their project of interest. The increasing demand over the years has attracted many players into the field; some of them good, some may be slightly problematic. The latter may cause issues down the line, such as unfinished lots, risky buildings and poor planning. This may lower down your property value significantly and incur losses to you later. As such, picking developers with reputation should almost always be a priority, second after assessing locations. The rule of thumb would be to check whether the developer of interest is public-listed or not, as public-listed developers tend to have a good track record with generations of quality developments that are assured to only bring good tidings to your next purchase too.
Purchase price
Moving on to the next point! That being the purchase price. Without a doubt, the purchase price remains an important piece of the puzzle when looking for properties to buy in Malaysia. The prices differ significantly between locations, types of housing and even the size of accommodation among others. As discussed earlier, given that properties in locations would almost always attract buyers, the prices are at times jacked up due to high demand, sometimes around RM1 million for properties in the central area of Kuala Lumpur and Johor Bahru. In fact, two different projects in a similar area may be priced differently too, depending on the offerings they have, such as the facilities and amenities provided.
The game is a bit different for foreigners, as the ceiling price is raised so that they would not simply buy cheaper properties that are usually meant for the locals. Still, the factors mentioned above would still play an important part. For instance, the MM2H participants in Penang may only be allowed to purchase properties from RM500,000 and above, whereas if they're keen to buy a property in Sarawak, the threshold goes a bit lower, around RM350,000.
Specific rules
Of course, there are rules at the place for property purchases. Commonly, one is expected to fork out about five to ten percent of the purchase price as a deposit, depending on developers. Then a Sale & Purchase Agreement will have to be arranged with a lawyer, who will also impose certain legal fees. These fees will also have to be included in the initial owning cost of the property. Last but not least, is the stamp duty meant for the Memorandum of Transfer, which ranges about one to three percent, again depending on the developer of the project of interest. Usually, after considering all of the above, you're good to go to buy a house. However, you must also be alert of other costs that could be incurred along the line, such as the disbursement cost and real estate agent's fees.
Additionally for foreigners, before they even begin with the above, they will have to make another application to the government via the State Authority before proceeding with their purchase. The State Authority will in return issue a State Consent which will allow you to proceed. Though it may differ between states, generally the cost of the State Authority application would need another two percent from the purchase price.
Securing loans
Here we are at the last part, to secure the loans. After having cleared all of the initial costs above, you can go to any Malaysian banks to work on your housing loan. Depending on your debt service ratio as well as the bank you're discussing with, you can get about 80 – 90% for your housing loan. If you're a first-time buyer, with a bit of luck, you can get even more, albeit rare and usually done on a case-by-case basis.
The same holds for foreigners – they may also reach out to Malaysian banks to secure loans to buy the properties of their desire. Nonetheless, they may only get up to 70% of the total purchase price, and even with the participation in MM2H, the most they could get is about 80%. You can also opt for loans with foreign banks, though it's almost always preferable for you to borrow in the local currency, in order to avoid getting affected by the volatile currency exchange.
That is all the basics covered and now over to you! Ready to buy a home? We have a hidden gem we think You should know. It is now possible to skip all the additional commission and buy your dream home commission free!
Skip the unnecessary commission fees!