5 Traits Of High Rental Yield Property To Generate Your Passive Income
Generating a passive income is necessary if you hope to gain financial freedom. Property investment is one of the best passive income for investors to increase their profit and revenue. It is considered so because they turn the rented out property from a liability into an asset. Rental yield and ROI (Return on Investment), are the two things that real estate investors really look into when finding a property. Rental yields really matter for real estate investors as they determine the amount of income you receive compared to your investment.
However, the forever-rising house prices have brought serious effects to the rental yields among properties in the Klang Valley. A lot of properties that have enjoyed high capital appreciation in the past are now generating smaller rental yields. Nonetheless, there are a few properties that still have high rental yields.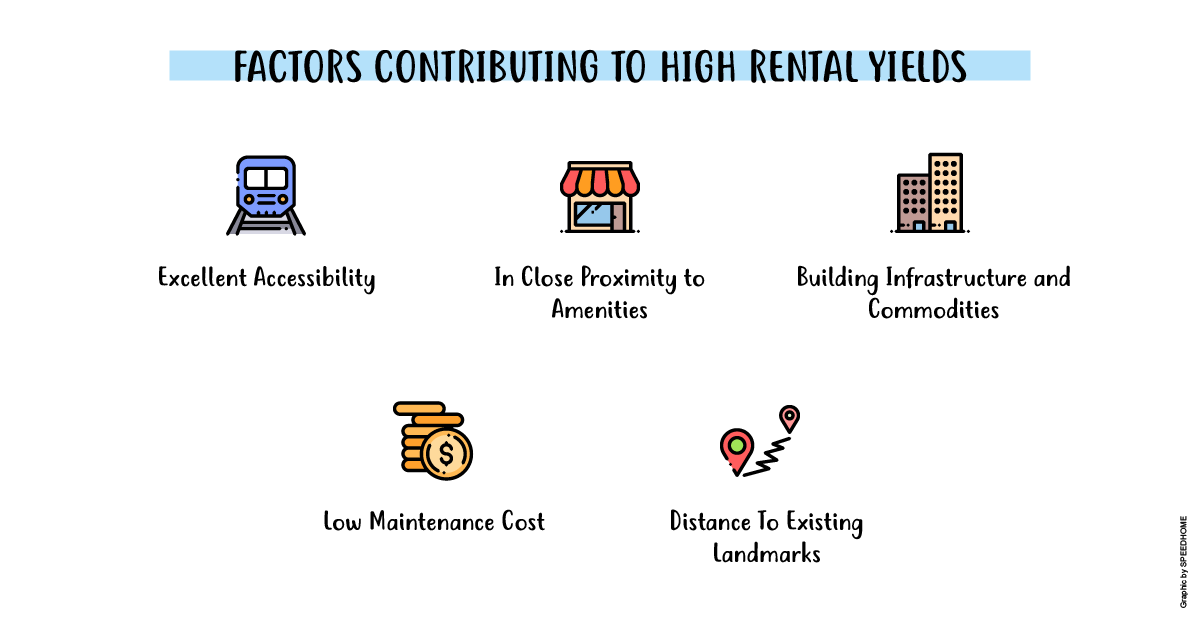 Factors contributing to high rental yields
Maintaining a strong rental yield is important. It affects the amount of passive income one receives at the at of the month. In order for you to fully maximize your rental yield and ROI, firstly, you need to do the math. Read here if you want to find out how to calculate your rental yield and ROI, then follow along this list if you are looking to generate bigger passive income:
Excellent Accessibility
People nowadays love convenience and don't mind paying extra for it. They will seek for it no matter how they can. In this case, condominiums that are located in strategic locations within or nearby the city-center as well as have excellent accessibility to commercial hubs and financial hubs will more likely to be getting higher rental yields. Also nowadays, the outskirts of Kuala Lumpur city-centre are getting a lot more interest from the middle-class citizens. These locations are well connected to public transportation like LRT stations or are easily accessible via major roads and highways.
See Also: Top Property Management Company In Malaysia, No 5 Is FREE
In Close Proximity to Amenities
Apart from that, another factor that boosts rental yields and ROI is the multiple condos' strategic locations which are in close proximity to important amenities. Investors in condos that are not located in city-center but in close proximity to amenities such as hospitals, international schools, and eateries have seen an improving total amount of passive income generated. Condominiums which are located in Mont Kiara and Hartamas flourish due to the amenities and accessibility nearby.
Building Infrastructure and Commodities
In addition, areas like Mont Kiara is a preferred choice of the neighbourhood by many citizens. Condominium infrastructures which are aesthetically and architecturally charming, as well as attractive commodities, are able to charm higher rental yields and ROI. Few characteristics that these properties acquire such as spacious communal areas and lifestyle elements really make it worth the higher monthly rent. But, beware of the maintenance cost that these properties might charge you.
Low maintenance Cost
Investors who want to achieve higher rental yields need to be wary of the maintenance cost for the properties they want to invest in. This could seriously affect investors' ROI if they are not careful. You don't want to turn a loss simply because you had to spend all your rental income paying for the same unit again, am I right? Properties which are on the high-end spectrum tend to have higher maintenance cost and should be taken into account by investors. Meanwhile, low-cost properties which have a lower maintenance cost but located in an area where there are a lot of amenities and accessibility might generate higher rental yields.
Distance To Existing Landmarks
Other than that, properties that are in between popular areas are also charming to a lot of tenants. Properties such as in Old Klang Road are bustling with tenants due to its strategic location in between PJ and KL. Bandar Utama which is close to an existing landmark like OneUtama and Bandar Utama MRT station makes it a great property to invest in. In addition, mature neighborhoods like Bangsar, Damansara dan Petaling Jaya which showed capital appreciation in the past will continue to maintain their rates of occupants.
All in all, passive income in Malaysia comes in many shapes and forms, but with this guide, you have found out why property investments is considered one of the best. Also, in this article, you have found out about the factors that contribute to higher rental yields and ROI.
Are you guys happy with this list? Comment down below if you know any neighborhood which has the qualities above!
Rent your house for positive cash flow. Find your perfect tenant within hours!