How To Sign Your Tenancy Agreement Online
Looking for a way to sign your tenancy agreement online hassle-free? Introducing SPEEDMANAGE, your online tenancy agreement solution! Now you can easily sign a legally binding and LHDN stamped tenancy agreement anywhere, at your own comfort.
Our digital tenancy agreement created through SPEEDMANAGE is legal and will be admissible in court under Section 7 of the Electronic Commerce Act 2006 and Section 62(2) of the Digital Signature Act 1997. Tenants will only be charged RM399 + 6% SST as Speedsign fee for the one-year lease agreement, inclusive of stamp duty.
Here are steps to how you can get your digital tenancy agreement signed & stamped in just 30 minutes:
Steps for Signing Up Online Tenancy Agreement for Landlords:
1. Log on to SPEEDMANAGE and verify using the OTP sent to your registered phone number.
2. To begin a new agreement, click the "Tenancy Agreement" tab.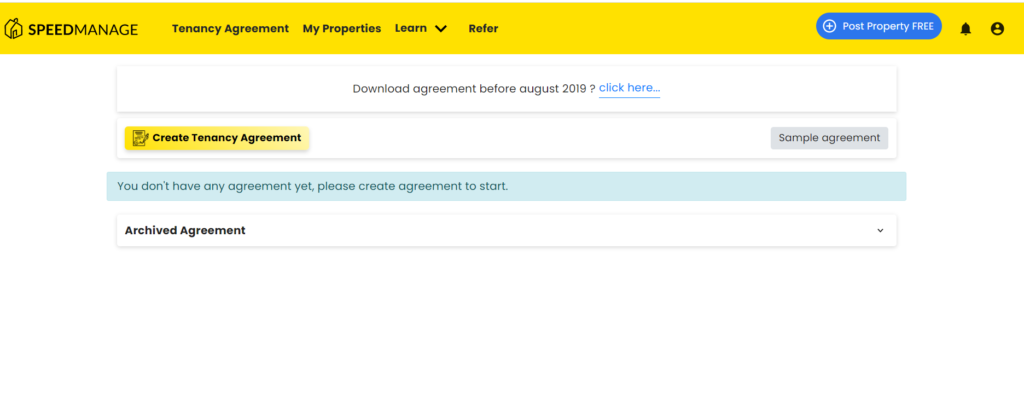 4. Create the type of tenancy agreement you need. You will be prompted to fill in your personal details as well as property details
5. Once done, your tenant will be notified of the agreement via SMS
Steps for Signing Up Online Tenancy Agreement for Tenants:
6. Once the agreement has been created by your landlord, you will receive an SMS notification to sign your agreement.
7. Log in to SPEEDMANAGE using the number you used to register for a SPEEDHOME account.
8. Once you see the agreement pending for action, click "Sign" to proceed & fill in your details. Make sure to read through all the clauses to ensure mutual understanding, then click "Continue"
9. Once done, it's time to sign your agreement.
Final Steps for Signing Up Online Tenancy Agreement for Landlords:
10. Login to SPEEDMANAGE to view the signed agreement. Click "Sign" and follow the rest of the steps.
11. And you're done!
You are now both protected by the law & SPEEDHOME's service clause.
Did you know, you can also check rental payment status through SPEEDMANAGE? Read how in our next article here.
Need more info? Give us a call at 0187777650. You can also email us at [email protected] and we'll get back to you about how we can arrange the best rental experience right here at SPEEDHOME.
Have more questions? Check out our FAQ below.